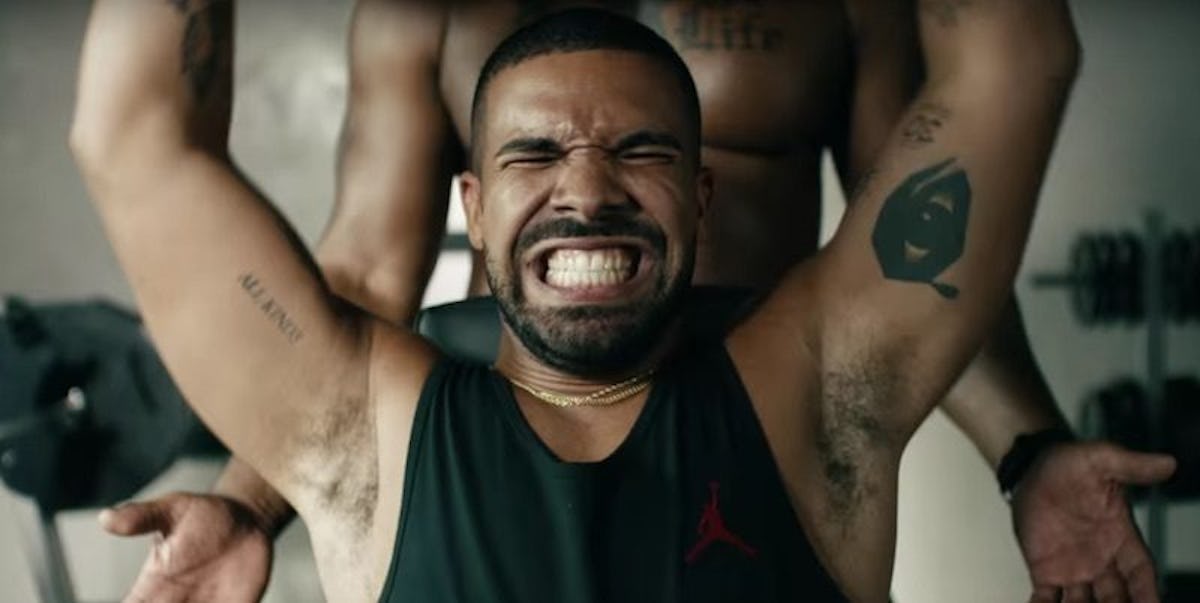 Drake Fuels Taylor Swift Dating Rumors By Rocking Out To 'Bad Blood'
YouTube
Guys, the rumors that Drake might be dating Taylor Swift are becoming WAY TOO REAL.
In fact, he just gave us another reason to believe the two are swooning over one another by rocking out to Taylor's hit "Bad Blood" in a new Apple commercial that's oddly adorable.
It aired during the 2016 American Music Awards and shows Drake lifting weights in a gym setting with Taylor's music blasting in the background.
After he uses his iPhone to choose the song, he starts pressing iron, grunting and singing the lyrics to his possible new bae's single.
We never thought we'd see the day where Drake sang along to Taylor Swift and lifted weights simultaneously, but this is 2016 and nothing surprises us anymore.
I mean, look at him!
He looks more fierce than Taylor did in the entire "Bad Blood" music video, and that's saying A LOT.
Toward the end of the commercial, the quirky Drake we all know and love returns when he gets so pumped from Taylor's music that he ends up falling off the bench press.
Even though it looked a little painful, it was still the cutest thing I've ever seen.
All jokes aside, this commercial was the last straw -- they have to be dating now, right?!
After Drake's Instagram photo of the two of them emerged, I thought maybe there was a fling happening.
And after more rumors emerged that Taylor might be collaborating with Drake on her next album, I started believing a little bit more.
And now, I am thoroughly convinced they're hiding something from us.
I'm not mad, by any means! I think I'm in the minority who's actually hoping the two of them start dating. Although, I am a little worried for Drake.
I just hope if the rumors are true, Tay doesn't break his heart.
Regardless, there'd be some pretty great music coming from both ends if that were to be the case, right?
I guess we'll have to wait and see. I'm going to go watch this commercial 10 more times.