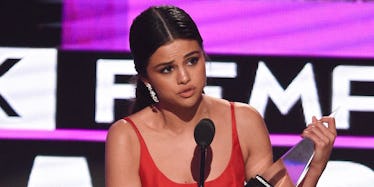 Selena Gomez Reveals Why She Went To Rehab In Emotional AMAs Speech
REX/Shutterstock
Selena Gomez made a powerful statement on Sunday night at the 2016 American Music Awards.
After taking a three month break to treat her depression and anxiety — including spending time in a rehabilitation center — the 24-old-year singer addressed her mental health struggle on stage at the AMAs.
Congrats, @selenagomez! Here she is with a sweet message when accepting the #AMAs for Favorite Female Artist- Pop/Rock! pic.twitter.com/JCeE9IijDU — AMAs (@AMAs) November 21, 2016
While accepting the award for Favorite Female Artist- Pop/Rock, Selena held back tears as she said to the crowd,
Thank you so much. In 2014, this stage was the first time I was actually, authentically 100 percent honest with all of you. I think it's safe to say that most of you know a lot of my life, whether I liked it or not. And... I had to stop. Because I had everything, and I was absolutely broken inside. And I kept it all together enough to where I would never let you down, but I kept it too much together to where I let myself down. I don't want to see your bodies on Instagram. I want to see what's in here. I'm not trying to get validation, nor do I need it anymore. All I can say from the bottom of my heart is that I am so grateful to have the opportunity to share what I love every single day with the people that I love. And I have to say, thank you so much to my fans, because you guys are so damn loyal, and I don't know what I did to deserve you. If you are broken, you do not have to stay broken. And whether you respect me or not, that's one thing you should know about me, because I care about people. Thank you so much for this. This is for you. Thank you.
The performance she is referring to is "The Heart Wants What It Wants," which she sang at the 2014 AMAs.
The 2016 AMAs are Selena's first professional appearance since she announced she was taking a break in August.
Fans and performers alike were moved by Selena's touching words.
Thank you, Selena, for being brave enough to share your story. I'm certain you've inspired many tonight to do the same.