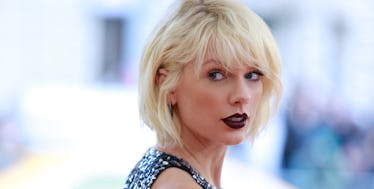 Taylor Swift Just Broke Her Social Media Silence With The Cutest Video
REX/Shutterstock
We haven't heard much from our old friend Taylor Swift lately -- she's been taking some time out from social media after that whole "Famous" feud with Kanye West and Kim Kardashian blew up in her pretty little face.
Yep, she's been dealing with a whole lot of fallout from that. Even Justin Bieber got all up in her grill about it the other day on Instagram.
But after weeks of radio silence, she's back.
So how do you crawl out of this big, dark hole of embarrassment if you're Taylor Swift?
Well, with a stupid cat video, of course.
She posted an Instagram Story of her cat standing up like a human. AND NOW IT'S SO HARD TO STAY MAD AT HER.
Welcome back into our lives, Taylor. All is forgiven.
In case you somehow missed the World Wide Web blowing up in July, here's what happened: The whole "Famous" feud finally came to a head when Kim Kardashian went all rogue and released the entire phone call in a series of Snapchat videos.
The argument was over the use of a line in Kanye West's "Famous" song that read, "I feel like me and Taylor might still have sex. Why? I made that bitch famous."
T-Swift always denied giving Kanye permission to use that line.
But the phone call basically confirmed she's a massive liar and it left everyone in the Swift camp weeping gently into their pillows over the shattered remains of her character.
She fought back at first, posting this defense on Instagram:
But since then she hasn't really been on social media.
The only other Insta post after that is a throwback one of her and Selena Gomez she uploaded to celebrate her friend's birthday.
Lesson learned: No internet beef is too big to be solved by a cat standing like a squirrel. Thanks, Tay.