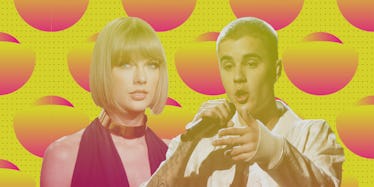 Justin Bieber Just Called Out Taylor Swift With This Instagram
REUTERS
TAYLOR. SWIFT. WHAT. UP.
Leave it to Bieber to get involved in beef that has nothing to do with him.
By now, the world knows about the insane feud going on between Kimye and Taylor Swift over Kanye's song, "Famous." And, if we didn't know it already, it's now confirmed Justin Bieber has taken a side.
The Biebs posted an Instagram that shows him FaceTiming with Kanye West and a few others. The caption reads, "Taylor swift what up."
STRAIGHT SAVAGE!
Justin and Taylor Swift go way back to the days when Justin was dating Taylor's best friend, Selena Gomez. Their friendship has seemingly fizzled out since Justin and Selena broke up.
People on Twitter obviously couldn't help getting involved.
Taylor Swift's fans were quick to come to her defense.
Others had Bieber's back.
Well, I guess we can firmly plant Justin on #TeamKimye.