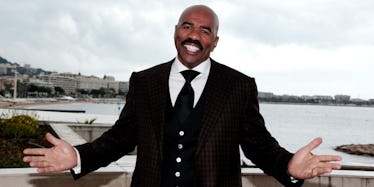 Steve Harvey Had The Best Reaction Of All To That Huge Oscars Fail
REUTERS
No one was happier than Steve Harvey after Warren Beatty announced "La La Land" as the 2017 Oscars winner for Best Picture.
No, this isn't because Harvey is a die-hard fan of Ryan Gosling and Emma Stone, at least not to my knowledge. It's because the real winner for Best Picture at the 89th Academy Awards was "Moonlight."
As you can see in the video above, Beatty read the wrong information off the card and created an extremely awkward moment once the "La La Land" team took the stage and then had to make room for "Moonlight."
Beatty tried to explain his Oscars faux pas. He said,
I opened the envelope and it said Emma Stone, 'La La Land.' That's why I took such a long look at Faye and at you. I wasn't trying to be funny.
Yeah, Warren Beatty screwed up real bad, which means Steve Harvey is finally off the hook for his Miss Universe fail back in December, 2015.
I feel you, man!
Following his epic fail at this Miss Universe pageant, Steve Harvey tweeted an apology to Miss Colombia and Miss Philippines.
Hey, we all make mistakes, Steve.
However, after Warren Beatty and the Academy outdid Steve Harvey at the 2017 Oscars, well, the 60-year-old "Family Feud" host just couldn't resist going in on Twitter.
Harvey started off this Monday morning with a subtle dig at last night's epic Oscars fail.
Then, he made it abundantly clear he knew he was off the hook for his Miss Universe pageant fail and was going to enjoy every minute of it.
Finally, Harvey ended his triumphant Twitter run by offering Warren Beatty his services in trying to cope with making such a mistake.
Here's a more in-depth look at that wild fail during the announcement for Best Picture winner at the 2017 Oscars because, well, I'm sure quite a few folks are still trying to figure out what the hell really happened.
Warren Beatty, if I were you, I'd call Steve Harvey ASAP.
A lot of people are probably pretty pissed about what happened at the Dolby Theatre Sunday night, but I'm certain Steve Harvey isn't one of them.
Citations: @IAmSteveHarvey (Twitter)