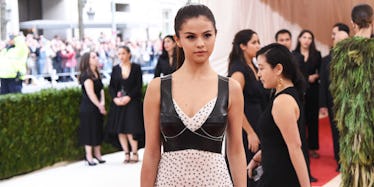 Selena Gomez Started Drama Because She's Not Over Justin Bieber, Source Says
REX/Features
NOOOOOOOoOoOOOOOOo, SELENA GOMEZ!!! DON'T DO THIS!!!!!
What an EFFING week it's been. Holy eff, I cannot believe we made it through it. That Selena-Justin beef was one big heart attack that took the friggin' WIND outta my lungs.
To recap, Justin's social media has been getting a ton of negative comments lately about his apparent new girlfriend, 17-year-old Sofia Rich.
Sooo many negative comments in fact he threatened to turn his Instagram private if fans didn't stop taking a communal dump on Rich any time he posted about her.
Selena Gomez then commented under one of the pictures of the two of them.
Then, they got in a fight...
Justin replied to Selena's comment saying this...#GUpdate pic.twitter.com/AhsR0ylfpX — Selena Gomez News (@MyLifeIsSelG) August 15, 2016
...which led to him unfollowing Selena on Instagram (along with others like ex-girlgriend Hailey Baldwin) before DELETING HIS OWN ACCOUNT.
This all ended with Selena Gomez apologizing.
Eff. Just one big-ass hellish dumpster of a week that thank God is ove -- it's only Tuesday?!?! YOU HAVE GOT TO BE CHOMPIN' MY ASSHOLE. COME EFFING ON. HOW IS IT ONLY TUESDAY?!?!
OH! THERE ARE MORE REVELATIONS!?!? GREAT! EFFING GREAT! IT TURNS OUT THIS MAY HAVE REIGNITED SELENA GOMEZ'S LOVE FOR JUSTIN!?!?
PERFECT.
LIFE HAS NO MEANING.
A source close to Selena told PEOPLE this whole beef may have a deeper level we don't know about, saying,
He was Selena's first love, and she hasn't been able to totally get over him.
Please, for the love of all things minorly beautiful and holy in this world, let this all not be true.
Citations: Selena Gomez Apologizes for Dissing Ex Justin Bieber as Source Says She Hasn't Been Able to Totally Get Over Him (PEOPLE)