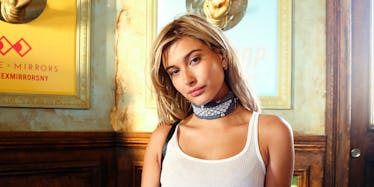 Hailey Baldwin's Cryptic Instagram May Be About Justin Bieber And Selena Gomez
REX/Shutterstock
What's a public Jelena fight without Hailey Baldwin's input, right?
In case you missed it, Selena Gomez reportedly threw some MAJOR shade at her ex boyfriend Justin Bieber on Instagram Sunday night.
Actually, this wasn't even shade. Selena really did not hold back: She straight-up called Biebs out for cheating on her "multiple times" while they were dating.
Then Hailey Baldwin, who was rumored to be dating Justin earlier this year (and perhaps a candidate for a Justin cheat-ee?), posted a cryptic Instagram of her own on Sunday.
It's unclear if this is a quote from something or if Hailey wrote this herself, but it definitely seems like a pointed statement toward Justin.
I mean, "when we take complete responsibility for our actions, we allow ourselves self-growth"???
Yeah, that sounds a lot like something Justin needs to hear right now.
In case you missed the whole story, JBiebs threatened to delete his account if fans wouldn't stop being mean to his alleged girlfriend in the comments.
Then Selena responded with a comment of her own on the post, calling out Justin for blaming fans for his mistakes.
Then, to make to make this whole thing even better, Justin replied with some classic passive aggressive BS, which made Selena get even MORE savage and bring up the whole cheating thing.
Basically, the Jelena era is dead, long live the reign of Queen Selena Gomez.
(And Hailey Baldwin can come too, I guess.)
Citations: Is Hailey Baldwin's Cryptic Post About Selena Gomez & Justin Bieber? (Refinery29)