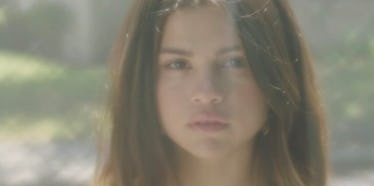 Selena Gomez's Fans Are Going Insane Over This One Dirty Line In "Fetish"
YouTube
Oh Lord, help us. We have Selena Gomez "Fetish" lyrics, and fans can't handle this one sexual line.
PEOPLE, GET A HOLD OF YOURSELVES.
It's been a long week of teases and sneak peeks from Gomez, as she's amped up her audience in anticipation for the official "Fetish" drop on Thursday, July 13.
However, by the grace of God, we have the lyrics today.
The singer just confirmed the lyrics on Twitter by retweeting Genius' tweet below.
I know. Pure poetry. Pure art.
Also, fans are full-on freaking out over the last line in the chorus which reads,
If I were you, I'd do me too
I mean, hello?! We are living for this confidence and sex appeal.
There was a moment of hot debate when listeners were confusing that last line for something a little more, hm, mature. Apparently, some people thought it was, "If I were you, I'd f*ck me too."
Whoops. (TBH, same idea, different words, right?) But, that's not the point.
The point is, Selena's retweet confirms Genius has it right, and Twitter is loving it.
No matter what happens at midnight tonight, Selena obviously can't fail.
Since becoming the true Queen of Teases after expertly luring us into the "Bad Liar" hype earlier this summer (and then pulling through with an epic music video), we've learned we can trust her entirely.
Now, with an ongoing series of still images and one or two video clips, she's wound us up again for "Fetish."
I mean, watch this. Watch these lips move.
I knowwww. It's mesmerizing.
Then there's this whole "gazing into the beaming sun plus a sprinkler and creepy kid's bike" thing she has going on, that has me begging for answers.
What does it mean? What does it mean? What does it mean?
We'll know it t-minus 11 hours, and I CAN'T FREAKING WAIT.