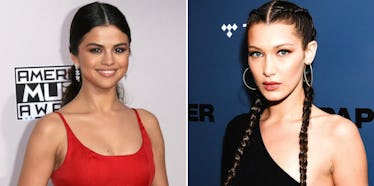 This Quiz Will Tell You If You're More Like Selena Gomez Or Bella Hadid
REX/Shutterstock
Selena Gomez and Bella Hadid are probably two of the most searched celebs on the web.
Whether you're watching Selena's "Hands To Myself" music video or online shopping to copy Bella's style, I'm sure we've all googled their names multiple times before.
The 24-year-old singer and 20-year-old model have been making headlines more often than usual because of their love triangle with The Weeknd.
If you've been out of the loop, don't worry -- I'll explain.
On Jaunary 11, pictures of Selena Gomez making out with the "Starboy" singer went viral.
The two were caught locking lips outside Giorgio Baldi in Santa Monica next to a dumpster.
I was pretty shocked, not gonna lie, because this was the first time since the 2015 Victoria's Secret Fashion Show I've seen the two together.
Yeah, remember when they performed?!
Well, the news actually shouldn't be too surprising because Selena Gomez and The Weeknd have been hooking up for two months.
Yup, apparently they started seeing each other immediately after The Weeknd and Bella Hadid split.
Ouch.
To be honest, I feel bad for Bella Hadid, but I'm also totally into Abelena. They just look so cute together, ya know?!
According to TMZ, the model feels betrayed by Selena Gomez because the two were friends.
Gigi Hadid and Bella even helped Selena get through some tough times.
I guess this means Taylor Swift's squad is officially dunzo. Damn. Sorry, girl.
When you think about it, Selena Gomez and Bella Hadid are actually pretty different people.
For starters, there's a four year age gap. That's like, a lot of years. Bella can't even drink yet. They're living different lives.
So, which lady are you most like? If you're curious, you can take the quiz below to find out.
I personally love them both, but deep down I think my personality meshes better with Selena's.
SORRY, BELLA. YOU'RE STILL MAH GIRL. Just, the thought of me modeling down a runway makes me wanna vom.