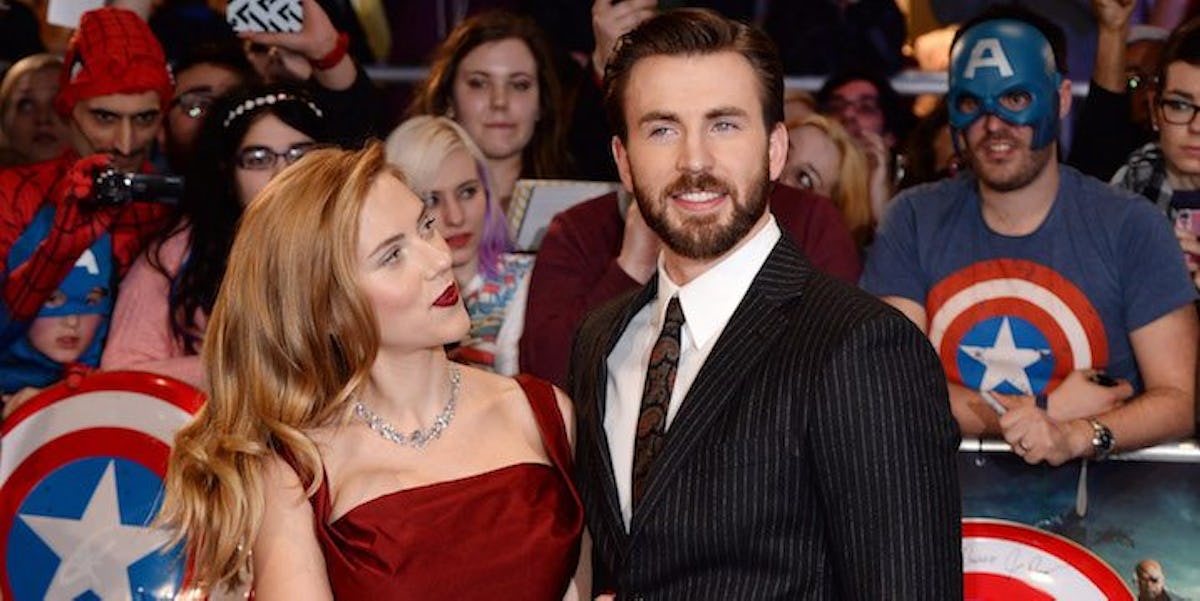 Everyone's Shipping Scarlett Johansson And Chris Evans And It Makes Total Sense
REX/Shutterstock
All right, everyone knows superhumanly attractive celebrities like Scarlett Johansson and Chris Evans can't be single for more than three months.
That's a law or something, I'm pretty certain.
Once that three-month mark hits, and someone as inhumanly gorgeous, smart and likable as Scarlett Johansson is still single, everyone is like, "All right, what gives? What's really going on here?"
Since it has now been approximately three months since the news of ScarJo's divorce from Romain Dauriac dropped, I'm assuming that's why there's now suddenly totally unfounded rumors she's dating Chris Evans.
Yep, this explanation makes sense to me!
Especially because, on top of ScarJo being recently single, Chris Evans, too is back on the market.
Last month we were all blindsided with the tragic news of Chris and Jenny Slate's breakup.
A source broke the news to Us Weekly, saying of the "Gifted" co-stars,
It was completely amicable and a mutual decision due to conflicting schedules and they remain very close friends.
Oof. Frankly, I'm still in the grieving process for them, so I can't fully get behind this Scarlett thing.
But I do understand it. And even though Chris has only been publicly single for a month, the timeline is sped up for a man of his date-ability.
I mean, did y'all SEE that photo shoot he did with Esquire?
Yeah, it seems pretty unfathomable a man like that could stay single for long.
So, what do you do when you have two uber-attractive, single celebrities who also happen to star in a few movies together?
(On top of playing Captain America and Black Widow in the "Avengers" franchise, Chris and ScarJo have also worked together on "The Perfect Score" in 2004 and "The Nanny Diaries" in 2007.)
(And yes, OK, they have demonstrated some flirty behavior in the press tours for said films in the past, like the time Chris surprised Scarlett on "Ellen.")
So what do you do?
You ship them, of course!
And that's exactly what the people are doing.
Hey, who knows? Maybe the will of the people is strong enough to make this couple actually happen. I certainly wouldn't be mad about it.
Citations: Here's Why Marvel Fans Can't Stop Shipping Scarlett Johansson and Chris Evans (E! News)