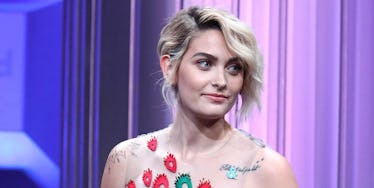 Paris Jackson Shared A PSA On Nudity With A Topless Instagram Photo
REX/Shutterstock
Paris Jackson is known for turning out a glam photo shoot (see her Chanel debut), but she went with with the "less is more" principle for her latest Instagram shot.
The 18-year-old model shared a photo on Friday of her sunbathing on a boat as she smoked a cigarette, with her top nowhere to be found.
Call that what you want but I call that "summer goals" right there—minus the nicotine.
Besides, she isn't porno naked; it's more like "You Are Not Alone" naked. A lil' conservative. Still thirst trap-ish.
Michael Jackson would totally approve of this boat slayage.
Public nudity clearly isn't taboo for Ms. Jackson.
She wants the world to know her nudity isn't prime for hypersexualization. In a lengthy Instagram caption, she shared her thoughts on nudity, sexuality and feminism.
Jackson wrote,
Nudity started as a movement for 'going back to nature', 'expressing freedom', 'being healthier' and was even called a philosophy. Being naked is part of what makes us human. For me it helps me feel more connected to Mama Gaia [greek translation: Mother Earth.]  I'm usually naked when I garden. it's actually a beautiful thing and you don't have to make it sexual the way many Hollywood stars (and the media) do.
This isn't the first time Paris Jackson has shown such body confidence.
In April, a Twitter user tried to body shame Paris with a comment about her weight. The starlet didn't hesitate to inform the troll about just how much she doesn't GAF.
That'll teach 'em to think before using Twitter fingers to mock weight gain.
Paris Jackson's commentary coincides with the current fight in feminism.
Jackson stressed the importance of women having the right to choose how they celebrate their bodies, with or without clothes. Her thoughts hit during a time when conversations about conservatism and women's respectability are had more frequently than ever.
From how long our skirts are to how much make-up we wear, women's bodies are constantly being policed. We are often told what makes us "real" women, how we should dress when we're mothers and that we're "asking for" sexual assault when we do not cover up in ways that others deem necessary.
Jackson wants it to stop.
She ended her feminist PSA with this statement:
We don't always agree with one another and that's okay. But again, we are all human, and to appreciate the things that other people do that make us human helps us feel connected. How can that be a bad thing?
To answer the question: It's not.
Right on Ms. Jackson!