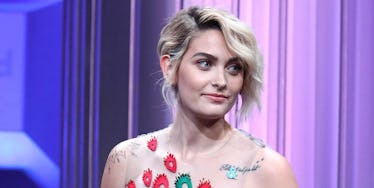 Paris Jackson Had The Best Response To Twitter Troll Who Body-Shamed Her
REX/Shutterstock
Paris Jackson knows the way to our hearts is through the confident, kind dismantling of the Internet Hate Empire.
The daughter of pop icon Michael Jackson, who turned 19 on this very day (HAPPY BIRTHDAY PARIS, GIRL!), addressed one Twitter troll's concern she'd "put [sic] on a little weight" based on red carpet photos snapped over the weekend.
Rather than engage in the usual passive-aggressive online exchange, Paris celebrated her body and, frankly, made anyone who uses "put on a little weight" as a criticism look petty as hell.
Rather than apologize, the troll used every sad weirdo's favorite one-two punch: explaining his own "joke" and gas lighting anyone who didn't find it funny.
Great. Thank you for contributing to the comedy landscape, @HmmmmGood. You've really changed the game. Expect Lorne to slide into your DMs sometime this week.
Paris doesn't back down from online conflict, but she doesn't contribute to the landfill of negativity out there, either.
When a commenter on Instagram called Paris' new pal Kendall Jenner "plastic," Paris replied without rage.
Instead, she kindly told the critic,
to my knowledge she hasn't gotten any procedures done so unless you know that for a fact i don't think it's very fair to call her plastic. she definitely has that total natural beauty going on. just my opinion.
Last week, Paris also hopped on Instagram and, in her instant story, addressed followers' concerns regarding her armpit hair.
She patiently explained,
I didn't realize that people were going to get so upset over my armpit hair... I didn't realize that was such an issue. It is so funny... People are really mad... I wish I could post some of these responses. You can just tell how angry and infuriated these people are... I love hair, and sweat, and BO. I fucking love it, I think it's great. Some people think that it's like super disgusting, especially on girls, but every human body does it. It's natural. Get over it.
Yesssss. Please let body-positive rants be the future of social media instant videos.
Citations: Refinery29