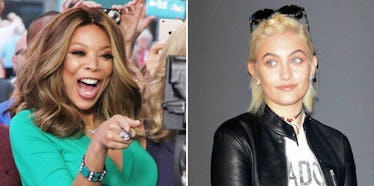 Paris Jackson Slams Wendy Williams For Calling Her 'Black' Comment 'Cute'
REX/Shutterstock
Wendy Williams had a few choice words for Paris Jackson following the teenager's cover story in Rolling Stone.
When the topic of race was raised, Paris -- whose father is late King of Pop Michael Jackson and mother is white-lady-with-bangs Debbie Rowe -- told the magazine,
I consider myself black… Most people that don't know me call me white. I've got light skin and, especially since I've had my hair blond, I look like I was born in Finland or something.
Still, Paris shared memories of Michael reminding her to consider both aspects of her heritage, claiming,
[He] would look me in the eyes and he'd point his finger at me and he'd be like, 'You're black. Be proud of your roots.'
Once the interview hit the web, daytime host Wendy Williams called Paris out during her Hot Topics segment on Thursday.
She told viewers,
I get that she considers herself Black and everything, but I'm just talking about the visual because, you know… Black is not what you call yourself, it's what the cops see you when they got steel to your neck on the turnpike. It's what they see. But that's cute and good for her.
A tweet from the Perez Hilton account bore the headline "@WendyWilliams Does NOT Want @ParisJackson To Call Herself Black!" and, according to Refinery29, prompted Paris to reply, "didn't birth me so," in a since-deleted tweet.
Some viewers spoke up to echo Wendy's comments...
...while others reached out in support of Paris.
Following her father's death in 2009, when a then-11-year-old Paris spoke at his televised memorial, she's faced a decent amount of media backlash.
She told RS,
I knew afterward there was gonna be plenty of shit-talking... plenty of people questioning him and how he raised us. That was the first time I ever publicly defended him, and it definitely won't be the last.
Regardless of whether Wendy acknowledges Paris' race the same way the 18-year-old does, it looks like Michael's only daughter will take it in stride.
Citations: Paris Jackson Fires Back At Wendy Williams Over "Black" Comments (Refinery29)