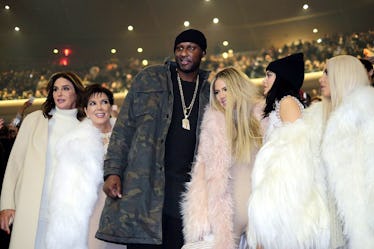 We Made New Year's Resolutions For The Kardashians So They Don't Have To
REX/Shutterstock
Khloé Kardashian recently took the liberty of penning New Year's resolutions for the Kardashian fam on her app without so much as DM-ing me for advice.
I forgive her because she did a sicknasty job compiling her hopes and dreams for reality TV's reigning family (I tried to get North and Saint and Penelope and Mason's names in this sentence, too, but believe it or not it turned out meaningless).
The thing is, the American people want more for the Kardashians. We can't help it. We love them too dang much.
Kourtney: Birth a fourth child and name it Bastian
The only thing Kourtney loves more than pulling babies out of her womb with her bare hands is the very act of mothering. And maybe expensive furniture.
Khloé's resolutions for Kourt involved taking on "a project that's all her own... related to interior design or another one of her hobbies."
Another one of Kourtney's hobbies, naturally, is giving her children names that are either needlessly fancy or the titles of old time-y jobs.
Bastian Armoir Disick is going to make Kourt a very happy mama.
Kris: Hand-crochet a wearable kangaroo pouch for Corey Gamble
Like, we get it, Kris.
Rob: Stay unmarried
Between Chyna's multiple walk-outs, his struggle to get both emotionally and physically healthy, the screaming fights and their newborn baby, Dream -- Rob and fiancée Black Chyna do not need to add the pressure of a lifelong, legally-binding commitment to the mix.
Koko said herself she'd like to see Rob "block out the extra noise and focus on himself and what truly matters in life," and while "ARE YOU STILL TEXTIN' BITCHES, YES OR NO?" quickly became one of the most quotable lines of 2016, it hardly represented a serene home life for either of the new parents.
In the event Rob just can't keep himself away from the damn altar, may I suggest he marry our one true messiah, Tokyo Toni, instead? No? That's not OK? Well, we can all agree it was worth a try.
Khloé: IDFK, girl
I am not about to tell Khloé Kardashian how to live her life. Even Kris gave Khloé the power to pull her plug should she meet an untimely fate.
Khloé was born with the wisdom of a thousand Caitlyn Jenners, and I am a bag of dead skin filled with mostly Nacho Cheese Pretzel Combos at this point.
You do you, Koko.
Kim: Stay alive
Kimmy had a rough 2016. Considering her Paris robbery and husband Kanye West's hospitalization, Kim's fans are desperate to see her stay safe and healthy.
Sure, we've been beckoning her back to social media since literally the minute she began her almost three-month hiatus, but we'd be thrilled with any stable, safe version of Kim, even if it's one that never tweets.
Kendall and Kylie: Y'all aren't even Kardashians.
WHAT? Is this too REAL right now? I'm just saying what everyone is thinking.
*flips a display case of Kylie Lip Kits*
They're JENNERS.
*ransacks a Victoria's Secret outlet store*
This is a list of NEW YEAR'S RESOLUTIONS for the KARDASHIANS.
*burns Calabasas to the ground*
Even Khloé couldn't think of any resolutions for these two Nondashians. She encouraged Kendall to "keep doing [her] thang" and Kylie to "fucking keep it up!" which is just half the name of their TV show with the word "fucking" tacked on like a prefix.
You.
Don't.
Get.
A.
Resolution.
Bye.