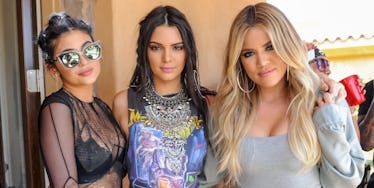 These Celebrities Will Give You Serious Sister Goals For #NationalSisterDay
REX/Shutterstock
I have two sisters, and I love the hell out of them.
They're just way different than my brothers and no matter what, I can always see myself having them around.
As it turns out, celebrities also love their sisters. Who knew!?
Seriously though, not all sibling relationships are created equal and there are definitely celebs out there whose sisters still play big roles in their lives.
In no particular order, here are a bunch of celebrities who couldn't go on without their sisters.
Amy and Kim Schumer
These two are hilarious. All you have to do is take a quick look through Amy Schumer's Instagram and you'll see how much time she spends with her sister, Kim. They're definitely super close and best friends.
Tia and Tamera Mowry
Tia and Tamera Mowry have basically been a unit ever since the golden days of their first TV show, "Sister, Sister." There aren't many other celebrities out there who can say they've been working together forever, but I assure you, those who can are on this list.
Mary-Kate and Ashley Olsen
Yup, you didn't think I could forget the Olsen twins, did you? How could anyone forget the OGs of sister-best friends?
Even though the sisters seem to have gone their separate ways in terms of acting together, Mary-Kate and Ashley Olsen still work in fashion together and were inseparable on screen and in life for, like, a decade.
Beyoncé and Solange Knowles
Who beat up Jay Z when she found out about his alleged cheating? Clearly, Solange Knowles has always had her sister's back and vice versa.
The Kardashian Sisters
Obviously, if there are any celebrities who give us all serious sister goals, it's the Kardashians. Led by mom Kris Jenner, the Kardashian sisters, including Kim, Khloé and Kourtney, basically built a media empire together. It seems the sisters have never been closer.
I wanted to include Kylie and Kendall Jenner with the Kardashians, but it felt wrong because even though they're all one family, the two Jenner sisters still have their own things going on.
They have their own fashion line together and they spend just as much time together as the Kardashians (and a lot of time with the Kardashians, too).
Seriously, if there was ever a family to to inspire you to love your sisters, it's the Kardashian-Jenner clan.
Gigi and Bella Hadid
They're both models, they're both signed to the same agency and they're both everywhere, often together.
Just remember who the first person was to come to Gigi Hadid and Kendall Jenner's defense when people criticized their supermodel status: Bella.
And, the sisters are only two years apart, so it makes sense they'd be close.
How about that throwback photo of the Williams sisters! Of course, nobody can forget the the greatest women's tennis doubles pairing of all time.
Venus and Serena grew up together, they play tennis together (and occasionally against each other) and just generally push each other to greater heights in the way only sisters and best friends can do.
So, which sisters have the closest relationship? Let us know what you think in the poll below!
Poll photo credit: REUTERS.
Citations: Gigi and Bella Hadid: the sisters taking over the world (The Guardian)