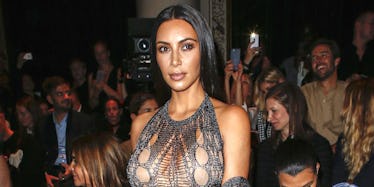 A Lucky Mirror Reflection May Help Cops Find Kim Kardashian's Armed Robbers
REX/Shutterstock
A new clue may help investigators determine who attacked Kim Kardashian in her Paris hotel room and stole millions of dollars worth of jewels.
The mother of two was held up at gunpoint, gagged and bound in a bathtub and forced to plead for her life. 
Police originally believed they had no footage of the robbers, but now a mirror reflection may be the key to solving the case.
According to MailOnline.com, the five masked men were reportedly captured on CCTV while sneaking past security and escaping on bikes.
The gang was spotted in a "million-to-one" image of their reflection in a mirror while running away. The video footage was actually taken from the Bel Ange nail salon on the same street as Kim's apartment.
The camera on the salon's mezzanine level was facing a large mirror, which allowed their reflection to be captured.
In addition, a second mirror caught the armed robbers running through a back door behind the upmarket Hôtel de Pourtalès.
The video footage is now in the hands of the French police, who will be working together to find the suspects from the clip.
A source close to the French police also revealed the incident may have been coordinated days before.
Kim Kardashian was reportedly tailed by two men who posed as a detective and a photographer.
The men followed the 35-year-old reality star to gain "close surveillance" information.
One of the men even attempted to gain access to Kim while she was dining at a restaurant. The other joined the paparazzi to get more information on the whereabouts of the star.
After the incident, Kim Kardashian immediately left France and flew back to New York City. She was greeted by Kanye West, who has put his tour on hold to be there for his wife.
Kim has not yet commented on social media about the robbery, but according to her rep, it may take some time before the star fully recovers.
Citations: Kim Kardashain Robbery Mirror (MailOnline.com)