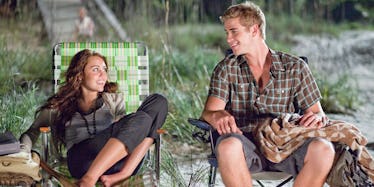 Miley Cyrus Posts Pic Of First Kiss With Liam Hemsworth And It Is Everything
Touchstone Pictures
Happy International Kiss Day, lovebirds! And a special shout out to Miley Cyrus and Liam Hemsworth.
If you were born between the years 2002 and 2009 and have a phone, Facebook, access to the internet, or a pulse, you've probably been bombarded with International (FILL IN THE BLANK) Days for some time now.
Sure, I'll take any excuse to eat a doughnut while throwing my dog a just-for-funsies hat party, but sometimes these things get out of control.
But, not today. Today is legit. Today is International Kissing Day.
How do I know? Miley Cyrus told me. How did she tell me? Oh, with this epic throwback photo.
Yup, that's Miley and on-again-off-again-but-this-time-on-again-seriously-we-mean-it fiancé, Liam Hemsworth, back in the day.
The famous couple met on the set of their film The Last Song in 2010 where they shared this "first smooch," as Miley puts it.
Weird, my fiancé and I shared our first smooch over half-priced Soco Lime shots. (I actually don't know when or where or how our first kiss went down, but this is a safe bet.)
Look, this isn't about my wedding – happening in June of 2018 with a neutral color palette and pops of greenery, featuring hanging bistro lights and chicken and waffles served as appetizers – ya nosey. This is about Miley.
Hemsworth and Cyrus have had their relationship put to the test, as Cyrus' image and career path fluctuated from wild child to recent bohemian babe.
Pausing their engagement back in 2013, the duo is officially back on and living super happily-ever-after in Malibu, California.
Again, how do we know this? Miley told us, with her song "Malibu." Duh.
Cyrus told Billboard magazine she and the Hunger Games actor "had to re-fall for each other."
Now, even Cryus' mom Tish can confirm they are madly in love, even if we don't have a wedding date yet. Tish told Mario Lopez on his show On with Mario Lopez,
She is not eloping. She is not getting married. They are so freaking happy and living in Malibu. She's so happy, and she's always like, 'I don't know why everybody wants us to get married.' It's so perfect.
Well then. Happily International Kissing Day, everyone!