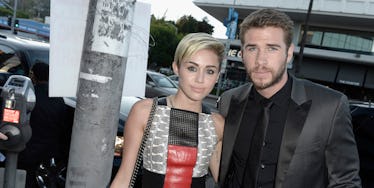 We Finally Have Some Details About Miley Cyrus And Liam Hemsworth's Wedding
Kevin Winter/Getty Images
I know you all want me to tell you Miley Cyrus and Liam Hemsworth are springing a glamorous, weed-themed wedding on us this weekend, but that is just not the case.
Cyrus' mom, Tish, revealed on the radio show, ON with Mario Lopez, her famous daughter and her on-again, off-again (but this time seriously on-again) fiancé, Liam Hemsworth, are in no rush to walk down the aisle.
However, she did say this is the happiest Miley Cyrus has ever been, which is pretty awesome news:
She is not eloping. She is not getting married. They are so freaking happy and living in Malibu. She's so happy, and she's always like, 'I don't know why everybody wants us to get married. It's so perfect.
Ugh, fineeeeeee.
Tish also pointed out her daughter is still pretty freaking young to be talking happily-ever-forever, and the 24-year-old "Malibu" singer still has plenty of time. She also added that whenever the big day does arrive, don't expect a million bells, whistles, swinging wrecking balls, or dancing bears.
Tish said,
Of course I probably would [want a big wedding]. She would never do that, I don't think. She's a simple, simple girl. I don't think so. I wan't all my kids to have big weddings.
So that's a no on a plus one for me then? Bummer.
Tish explained she's "obsessed" with her future son-in-law, who proposed to Cyrus two years after the couple met in 2010 on the set of their movie, The Last Song.
Though they did call off their engagement in 2013, by December 2015, Miley Cyrus was rocking her engagement ring again, and ultimately wrote her latest single, "Malibu," in honor of her Hunger Games sweetie.
One thing we can all be sure of is to expect the unexpected when it comes to Miley Cyrus, and I'm sure whenever the two do make it official it will be totally worth it for us.
I mean them...
I mean us.