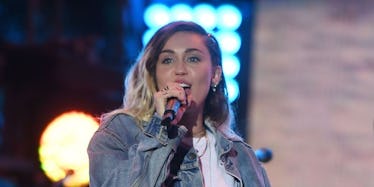 Miley Cyrus Dedicates "Inspired" To LGBTQ+ Community During A Show — WATCH
Shutterstock
No one tells Miley Cyrus what to do, and she made that clear during her iHeart Summer '17 performance.
Though she was warned her hit song "Inspired" might be too low-key for the show — which was accompanied by balloons, water guns, and even her little sister, Noah — Miley had asked her fans if they wanted to hear her latest track.
After applause and cheers, the decision was made.
"Everyone says they want to hear it, so let's do it," Cyrus said. "They told me not to do this, but rebelling is kind of my thing."
In true Miley fashion, she carried on doing exactly what she wanted, and we have to say, we're certainly glad she did — especially considering the reason behind her performance.
"We'll sing this with a bunch of pride for the LGBTQ community," she said in a sweet dedication. Have a look below.
Following her highly anticipated track "Malibu," Cyrus performed "Inspired" at the One Love Manchester benefit concert and dedicated the song to victims of the attacks. During the benefit concert, Miley said,
For me, the most important responsibility we have on this entire planet is to take care of one another and look what we're doing today and how amazing that is.
Though she certainly has some wild days in her past, acts like these show Miley also has a big heart. Did you catch her duet with Ariana Grande? It pretty much made us sob.
According to Billboard, "Inspired" is partly dedicated to Miley's father and Hillary Clinton. "It was my Hillary Clinton song," she told the magazine. "I wrote it actually maybe a week before I went and campaigned for her."
The lyrics read,
We are meant for more/ You're the handle on the door that opens up to change/ I know that sounds so strange, to think / We are meant for more
Miley is also set to perform at Sunday's Pride Concert in Washington, D.C. Keep doing your thing, Miley.