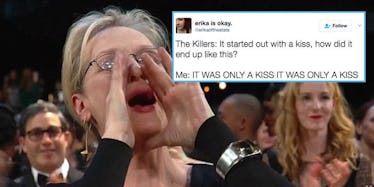 The Meryl Streep Yelling Meme Is The Only Good Thing About 2017
TBS/Twitter
When you find yourselves in times of apocalypse, mother Meryl Streep comes to you, shouting words of wisdom: Make a meme.
Seriously, even though we're only three months into 2017, there's some pretty troubling stuff going on. Luckily, Meryl Streep came through, albeit inadvertently, to lift our spirits.
I'm telling you guys, looking at these Meryl Streep yelling memes is the purest joy I've felt since I watched Meryl Streep jump on the bed in "Mamma Mia!"
A little bit of background for context: In 2015, Meryl Streep attended the Screen Actors Guild Awards, because Meryl Streep attends all the awards.
At those awards, the late, great Debbie Reynolds was presented with the SAG's Lifetime Achievement Award by her daughter Carrie Fisher. (Both Reynolds and Fisher died the next year in December, at the ages of 84 and 60.)
And as Reynolds took the stage to accept her award, no one was more supportive than Meryl. The Daily Mail captured a screenshot of Meryl shouting out her support, and for some reason, two years later, a meme was born.
There are so many amazing ones, but here are some of my favorites. Please feel free to add yours to the comments!
Many of them involve Meryl as a representation of someone shouting back the lyrics to iconic songs.
Of course Meryl knows Britney, bitch.
She would definitely tear up that seventh grade dance floor.
And she would DESTROY that seventh grade science class.
No love to Taylor Swift. Sorry.
Some switched out songs for their favorite commercials.
Or their favorite TV show openings.
And listen, if that new "Mulan" isn't going to have any songs, at least Meryl will be there to pick up the slack.
So, to recap: In January, Meryl destroyed Donald Trump in her Golden Globes speech.
Now in March, she has given us this delightful meme.
Meryl Streep is clearly the savior of this garbage year.