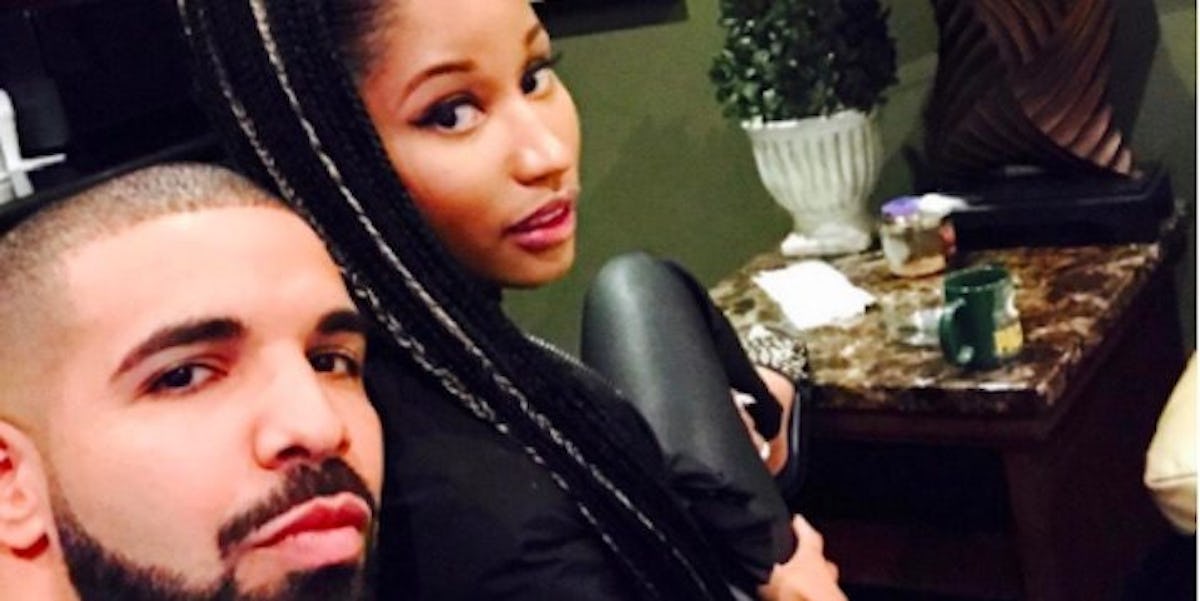 Meek Mill Deletes Instagram After Drake Disses Him With Nicki Minaj Selfie
Instagram
Update, 8:35 am: So, it turns out Meek Mill deleted his Instagram a few weeks ago, and not as a response to Drake's selfie with Nicki Minaj. My bad, Meek. Drake still destroyed you, though.
Life lesson: Never get into a feud with Drake because he will always get the last word.
Literally, that dude waited patiently for months and months to get his revenge on Meek Mill. But when he finally did, it was worth the wait.
The revenge? This Instagram selfie he posted with Nicki Minaj on Wednesday morning.
Unsurprisingly, fans went crazy over this blatant Meek diss.
In fact, fans went SO crazy over this shade, Meek actually deleted his Instagram.
Ouch.
Y'all, even without context, the level of shade in that selfie is unreal.
I mean first, let's talk about that caption Drake used: the eyes emoji. Everyone knows that's one of the shadiest emojis on the iPhone, perhaps second only to the upside down smiley face.
Second, look at the expression on Drake's face. That is a "fuck you" glare if I ever saw one.
Now let's add in the context.
Drake and Meek Mill have been feuding for almost two years.
It started the summer of 2015 when Meek accused Drake of not writing his own lyrics.
Then Drake responded with the iconic diss track, "Back to Back."
Since then he has not let up on Meek, calling him out whenever he can, from concerts...
Meanwhile, Nicki Minaj and Meek officially ended their relationship earlier this month.
Nicki did not sound happy with Meek.
And top that all off with Drake's verse from Nicki's song "Only."
Drake says,
I never fucked Nicki cause she got a man / But when that's over then I'm first in line
And that, my friends, is how you wait it out and win the feud.
I don't blame Meek for deleting. Drake just ended him.
In other news, Drake also posted this photo with him, Nicki and Lil Wayne.
So maybe we can expect an even more brutal diss track to come.