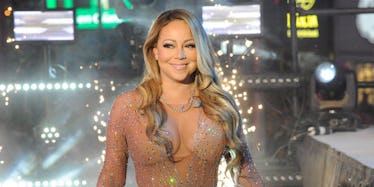 Mariah Carey Quits Social Media Post-NYE Fiasco To Get Away From '#TheFoilers'
REUTERS
Mariah Carey announced on Sunday that she is now taking a break from social media.
She posted an audio clip on Twitter with the announcement.
Carey's decision to take a social media break came from her disastrous performance on "Dick Clark's New Year's Rockin' Eve With Ryan Seacrest."
Carey's performance was marred by technical issues, including an ear piece and mic pack malfunction.
It was terrible and also amazing to watch live.
Last week, Carey said she was "mortified" by the tragic show, but she tweeted a funny reaction after it happened:
Carey's team claims she was set up to fail so the show would get more publicity.
Stella Bulochnikov, her manager, told Us Weekly,
I will never know the truth, but I do know that we told them three times that her mic pack was not working and it was a disastrous production.
Bulochnikov went on to say,
They acknowledged that they knew her inner ears were not working. They did not cut to a commercial. They did not cut to the West Coast feed, they left her out there to get ratings.
Now, Carey is heading off of social media to take a break from the "foilers."
Carey said in the audio statement posted to Twitter on Sunday,
Listen guys, they foiled me. Thus, it turned into an opportunity to humiliate me and all those who were excited to ring in the new year with me.
She said she is going to "take a break from media moments, social media moments." Carey added,
Although I am going to fulfill my professional obligations, this is an important time for me to finally take a moment for myself and to be with my loved ones and to prepare for my upcoming tour in March.
To be honest, when I watched Carey's performance live, my first thought was that this was a set-up.
Mariah Carey has a reality TV show on E!. E! practically owes their soul to Ryan Seacrest, who produces the various Kardashian shows.
Seacrest also, believe it or not, is involved with "Dick Clark's New Year's Rockin' Eve With Ryan Seacrest."
It's not that much of a stretch to see the connection, fam.
This would make for some great reality TV, and I hope the drama hits E! in 2017 so we can get Mariah's "real" reactions to it all.
For now, we'll just have to miss her as she's taking her media break.