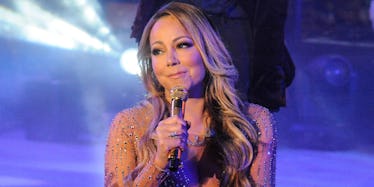 Mariah Carey Said She Was Absolutely 'Mortified' By NYE Performance Fail
REUTERS
Listen up! Mariah Carey does not have time for anyone's games this year.
The 46-year-old award-winning singer put her calm, cool and collected side on display to close out 2016 after a botched live performance during "Dick Clark's New Year's Rockin' Eve with Ryan Seacrest" in Times Square.
Apparently, Mariah's ear piece and mic pack were not working, which resulted in technical difficulties requiring the singer to, well, actually sing (instead of using the backing vocals to lip sync).
She had been performing her hit songs "Emotions" and "We Belong Together."
Perhaps Mariah Carey not actually singing isn't a big deal. I mean, she's not the only world-famous singer who can actually sing, but still lip syncs during live performances. It's part of the business.
After the epic fail, Carey took to Twitter to make it clear to her fans and everyone watching that "shit happens."
Here's the tweet.
Shit happens Have a happy and healthy new year everybody! Here's to making more headlines in 2017 pic.twitter.com/0Td8se57jr — Mariah Carey (@MariahCarey) January 1, 2017
Carey's manager Stella Bulochnikov then offered a drama-filled statement regarding the technical difficulties, saying,
I will never know the truth, but I do know that we told them three times that her mic pack was not working and it was a disastrous production. I'm certainly not calling the FBI to investigate. It is what it is: New Year's Eve in Times Square. Mariah did them a favor.
If you haven't seen the "performance" for yourself, check it out below.
Now, Mariah Carey is speaking out beyond statements from her team and short, sweet tweets. During a recent interview with Entertainment Weekly, Carey recalled the NYE incident, admitting,
All I can say is Dick Clark was an incredible person and I was lucky enough to work with him when I first started in the music business.
Is that "ALL" you can say, Mariah? Come on!
She continued,
I'm of the opinion that Dick Clark would not have let an artist go through that and he would have been as mortified as I was in real time.
So, there you have it, folks. In case you were wondering how Mariah REALLY felt behind her nonchalant attitude regarding her flubbed performance to celebrate the new year, she was just as "mortified" as you were.
Here's to more success and no failures in 2017, Mariah!
Citations: Mariah Carey: I Was 'Mortified' by New Year's Eve Performance (Us Weekly)