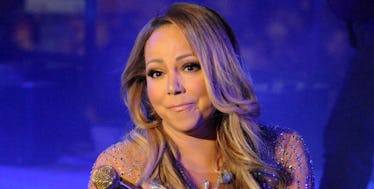 Mariah Carey's Team Gives Drama-Filled Explanation For New Year's Eve Fail
REUTERS
Just when we thought the chaos of 2016 had ended, Mariah Carey happened, making the final hours of the torturous year truly memorable.
During "Dick Clark's New Year's Rockin' Eve," the singer had a very public mishap with a faulty mic, causing her to stumble along to her hits "Emotion" and "We Belong Together" when she apparently couldn't hear the backing track.
And naturally, her team has an explanation for this cringeworthy performance: sabotage.
Stella Bulochnikov, the pop star's manager, explained everything to Us Weekly on January 1:
I will never know the truth, but I do know that we told them three times that her mic pack was not working and it was a disastrous production. I'm certainly not calling the FBI to investigate. It is what it is: New Year's Eve in Times Square. Mariah did them a favor.
OH, SNAP! Those are fighting words.
Bulochnikov stood by her girl and continued to throw some accusatory shade, adding,
They acknowledged that they knew her inner ears were not working. They did not cut to a commercial. They did not cut to the West Coast feed, they left her out there to get ratings.
Mariah was seemingly less affected by the performance. She took to Twitter to wish everyone a happy new year... and let them know that this crap happens sometimes.
It is what it is, right? Mariah's got bigger fish to fry.
Dick Clark productions also released a statement about the incident:
To suggest that DCP, as producer of music shows including the American Music Awards, Billboard Music Awards, New Year's Rockin' Eve and Academy of Country Music Awards, would ever intentionally compromise the success of any artist is defamatory, outrageous and frankly absurd. In very rare instances there are of course technical errors that can occur with live television, however, an initial investigation has indicated that DCP had no involvement in the challenges associated with Ms. Carey's New Year's Eve performance. We want to be clear that we have the utmost respect for Ms. Carey as an artist and acknowledge her tremendous accomplishments in the industry.
Sooo ... who do you believe?
We're willing to bet Mariah's next headline will leave her NYE performance in the past — for her sake.
Citations: Mariah Carey's Team Claims Singer Was Sabotaged to Get Ratings for New Year's Eve Show (US Weekly)