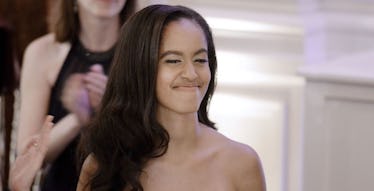 Malia Obama's Graphic T-Shirt Is So Obvious And So Perfect
REX/Shutterstock
In some ways, Malia Obama is your average 18-year-old.
She loves twerking, music festivals and gap years. And, just like most other teenagers, she loves a good old-fashioned graphic t-shirt.
This weekend, Malia rocked a shirt at Made in America Festival that read, "Smoking Kills."
Yes, Malia, smoking does kill.
I'm guessing this is a response to when she was caught smoking at Lollapalooza back in August. I sense teenage irony or a strong suggestion from some pretty influential parents. Barack, was this your doing? Michelle?
And if you're looking to get a matching shirt? Good luck. This looks handwritten (and I already searched Urban Outfitters and ASOS -- no luck).
Oh, did you happen to notice her Harvard hat? Just like any other teenager headed to college, Malia's already decked out her school's colors. Enjoy it now, Malia. The excitement goes away after your first big paper.
But before you think you can truly identify with Malia Obama, her twerking and her style, watch this video.
Yeah, that's Beyoncé hugging the president's eldest daughter in the crowd.
You may have once been 18. You may have even gone to Harvard. But you've never hugged Beyoncé.
Citations: Malia Obama Would Like to Remind Everyone That Smoking Kills (The Cut)