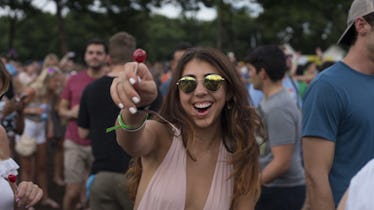 These Pics Show Why Malia Obama Ditched The DNC For Lollapalooza
Sepp Dasbach
Malia Obama once again proved herself as one of the coolest teens in the world this week when she ditched the Democratic National Convention to take a trip to Chicago for Lollapalooza.
Despite the fact her mother delivered an amazing speech on Monday night of the DNC, before her father brought the house down on Wednesday, it looks like Malia's one objective this week was turning up in Chi-town.
And who could blame her? For starters, she had the US Secret Service with her, which is worth mentioning because there's always that one lame person who will ask, "What if something dangerous happens?"
Yeah, she should be fine. Plus, she doesn't even have any school to look forward for like a year -- she'll only start classes at Harvard University in the fall of 2017 -- so this is arguably the time she should be most carefree.
Oh, and then there's the obvious. Lollapalooza is so lit. And, if that wasn't already evident, just take a look at these original shots.
Gonna go out on a limb here and say Malia made a good move.