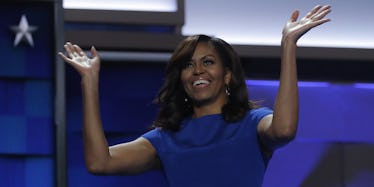 Michelle Obama's Speech At The DNC Reminded Us America Is Already Great
REUTERS
Michelle Obama gave an incredible speech at the Democratic National Convention on Monday night.
At a time when American politics are extremely contentious, her words will restore your faith in this country and its future.
Simply put, she killed it.
Can we keep her forever? Please?
The first lady's speech was in many ways about what the immense responsibility of being president truly means: Setting a strong example for children and laying the foundation for them to thrive as adults.
She focused heavily on how important it was for the president to set an example for children through words and actions. In a reference to Twitter and the sound bite politics we are living, she suggested that Donald Trump's negative rhetoric was sending the wrong message to younger generations.
With every word we utter, with every action we take, we know our kids are watching us. We as parents are their most important role models. And let me tell you, Barack and I take that same approach to our job as president and first lady because we know that our words and actions matter, not just to our girls, but the children across this country. Kids who tell us, I saw you on TV, I wrote a report on you for school. Kids like the little black boy who looked up at my husband, his eyes wide with hope, and he wondered, "Is my hair like yours?" And make no mistake about it, this November when we go to the polls, that is what we're deciding. Not Democrat or Republican, not left or right. No, in this election, every election, it's about who will have the power to shape our children for the next four or eight years of their lives.
Michelle Obama's speech was major endorsement of Hillary Clinton, and it reminded us, in spite of America's many flaws, this is still a country where we have many reasons to be proud.
She said,
I want a president who will teach our children that everyone in this country matters. A president who truly believes in the vision that our founders out forth all those years ago, that we are all created equal, each a beloved part of the great American story. And when a crisis hits, we don't turn against each other. No, we listen to each other, we lean on each other. Because we are always stronger together. And I am here tonight because I know that that is the kind of president that Hillary Clinton will be. And that's why in this election, I'm with her... I wake up every morning in a house that was built by slaves, and I watch my daughters, two beautiful and intelligent black young women, playing with their dogs on the White House lawn. And because of Hillary Clinton, my daughters — and all of our sons and daughters — now take for granted that a woman can be president of the United States. So, look. So, don't let anyone ever tell you that this country isn't great, that somehow we need to make it great again. Because this right now is the greatest country on earth.
Michelle Obama just reminded us that America is already great.