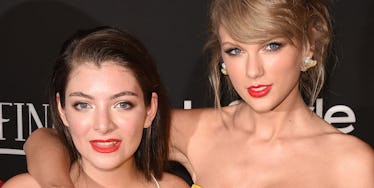 Lorde Shuts Down Trolls Who Claim She Dissed Taylor Swift With One Perfect Tweet
Jason Merritt/Getty Images
Take a deep breath, everyone. The T. Swift squad lives on.
Lorde came back at those rumors that she and bestie Taylor Swift were on the outs on Friday, with a single tweet that says everything.
Phew. It's gonna be okay, guys.
The singer, who recently released her new album Melodrama, made everyone raise their eyebrows in an interview with Sunrise on Thursday, when she said "I don't hang out with these people at all." Was that — was that in reference to Taylor? Is the squad no more? Everyone was already on edge after the traditional Independence Day Instagram-fest never materialized. This is too much. Say it isn't so!
Well, apparently it isn't. "Taylor is a dear friend and I love her very much," Lorde wrote. Good. There's that cleared up.
She also took some time to take apart the idea that "the squad" is such a big deal.
It was never some exclusive club or secret society, but a wide circle of people, some of whom i know and some who i've never met, like most wide groups of friends. Forgive me for the mild eyeroll I popped when it was brought up as if we're all blood members of a secret cult.
Legit. Though to be fair, the T. Swift squad is known to be bound by blood.
Joking aside, Lorde makes a really good point about the effect gossip can have on friendships when she says that it was "really sh*tty to wake up to headlines about whether or not you've jumped ship on someone you deeply respect and ride for." She reiterates that she's still a faithful friend to Swift, who she sweetly says has always been there for her.
Thankfully in all this, there's only one person whose opinion and interpretation of what Lorde said matters, and that's Taylor Swift herself. Isn't it nice that your best friend is always only a phone call away?