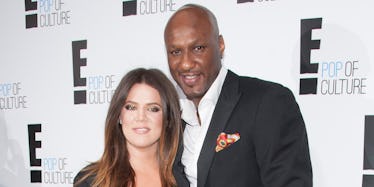 Lamar Odom Hung Out With One Of Khloé K's Exes, So That's Super Awkward
REX/Shutterstock
I think I know of one name that was almost definitely brought up when Lamar Odom and French Montana met up earlier this week.
The two men, who both famously dated Khloé Kardashian, got together for dinner on Tuesday night.
Apparently, both Lamar Odom and French Montana were guests at a mutual friend's birthday party that was held at Robert De Niro's restaurant Ago.
Though we don't know exactly how the former NBA star and rapper interacted with one another, it seems like it would be impossible for them to sit at the same table without bringing up their shared ex.
As anyone who has even accidentally glanced at a tabloid or turned on the E! channel for a split-second in the past seven years is already well aware, Khloé Kardashian and Lamar Odom had a long and tumultuous relationship from 2009 until their divorce was finalized at the end of 2016.
After getting married a month after meeting, Lamar Odom quickly became a mainstay on the Kardashian family reality show "Keeping Up with the Kardashians," and soon he and Khloé earned their own spinoff "Khloé & Lamar."
But the couple hit rough waters in 2013, and Khloé filed for divorce. While separated from Odom (though not yet legally divorced), Kardashian began dating French Montana on and off throughout 2014.
She later admitted she felt she moved on from Odom too quickly, and broke up with Montana, though the two have remained good friends.
Just before Khloé's divorce was nearly finalized in 2015, Lamar Odom was found unconscious in a brothel, and hospitalized for a coma.
While Odom was comatose, Kardashian withdrew her divorce petition in order to continue making medical decisions for her husband. Once he healed, Kardashian refiled her petition and the couple was finally officially divorced at the end of 2016.
Though French Montana has spoken about how he and the whole Kardashian family remain friends, it sounds like Lamar Odom is vying for more than just friend status.
The former NBA star appeared on an episode of "The Doctors" a couple of weeks ago, and admitted now that he's sober, he wants his wife back.
Unfortunately for Lamar, it looks like Khloé is feeling the love with her current boyfriend, Tristan Thompson. At least it looks like Lamar has French Montana to commiserate with.
Citations: Khloe Kardashian's Exes Lamar Odom and French Montana Grab Dinner Together (Us Weekly)