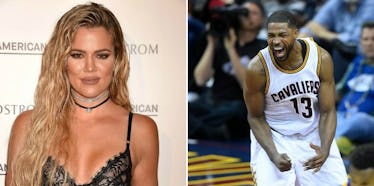 Khloé Kardashian Reveals Her Valentine's Day Plans With BF Tristan Thompson
REX/Shutterstock/USA TODAY Sports
Cleveland Cavaliers big man Tristan Thompson is one lucky dude.
Last week, Thompson received an early Valentine's Day gift when his girlfriend, Khloé Kardashian, posed for a photo rocking hot red lipstick and some very sheer white lingerie.
Oh. Hot. Damn.
The 25-year-old Thompson and 32-year-old Kardashian have reportedly been dating for less than a year, but that hasn't stopped Khloé from doing interviews about the Cavs superstar being "the one."
On Monday, Khloé Kardashian joined the set of "The Ellen DeGeneres Show" to chat about what it's like working out with her sister Kim Kardashian as well as what she's planning to surprise Tristan Thompson with on Valentine's Day.
As you can hear in the video above, Ellen DeGeneres asked Khloé Kardashian what she has planned for Valentine's Day, to which the 32-year-old replied,
I am going to be in Cleveland with Tristan. He actually has a game on Valentine's Day, so I will be with him after the game. I'll probably cook dinner, have food waiting for him when he comes home... maybe look a little sexy.
I mean, if the outfit in the photo at the top of this post was a pre-Valentine's Day gift, what the hell do you think Khloé Kardashian will be wearing when Tristan gets home Tuesday night???
After the final buzzer, Tristan Thompson will be driving home from Quicken Loans Arena like...
Seriously, though, I really, really hope Khloé posts a Valentine's Day selfie or two on her social media accounts.
Interestingly enough, the part Ellen DeGeneres picked up on was the fact Khloé Kardashian likes to cook.
In response to Khloé K saying she plans to cook a Valentine's Day meal for Tristan Thompson, Ellen DeGeneres said,
Really, you cook? Really? What will you cook for him?
Uh, Ellen, I think you missed the big picture here.
Regardless, it's clear Khloé and Tristan are going to have one hell of a Valentine's Day this year.
Speaking on their budding romance, a source reportedly told ET,
Khloé and Tristan are amazing… Khloé is madly, madly in love with this man. She is the happiest she has been in a really long time.
Get it, you two!
Citations: Khloé and Kim's Different Approaches to Fitness (YouTube)