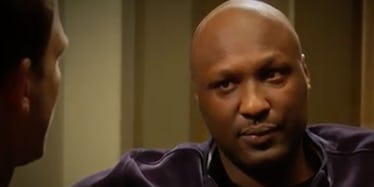 Lamar Odom Says He Was 'Basically Committing Suicide' With His Bad Habits
The Doctors
Former NBA champion Lamar Odom has been quite vocal following his recent 35-day stint at a rehab facility in San Diego.
The 37-year-old star was spotted by paparazzi in Beverly Hills on January 5, the same day he was released from rehab for his ongoing battle with drug addiction.
Odom first spoke to TMZ saying his rehab experience was "awesome" and "life-changing." He also told reporters that his ex-wife Khloé Kardashian had not yet reached out to him.
Of course, he wouldn't give too many other details away considering the fact he's already appeared on the TV show "The Doctors" to speak publicly about his struggle following a near-fatal overdose at a brothel in Nevada back in 2015.
Luckily, a new trailer for an upcoming episode of Odom's appearance on "The Doctors" was just released, and Lamar is sharing a bit more than he did with the paparazzi after his release.
In the 11-second clip, Dr. Travis Stork asks Lamar what he's most looking forward to after rehab. Lamar then admits,
Um, honestly, I want my wife back.
Here's the clip.
And the crowd goes wild.
Now, there's just one little problem... Khloé and Lamar recently finalized their divorce just before ringing in the new year. To top it all off, Khloé is currently dating NBA player Tristan Thompson.
Yikes.
Furthermore, a while back, Lamar told Dr. Travis Stork the many issues he had in his relationship with his ex-wife may have played a role in his substance abuse.
My wife at the time... we were going through some things and I was in a dark place.
While he's made it quite clear he wants that old thing back, Odom needs to be very careful not to undo all of the progress he's made thus far.
During the latest segment, he specifically opens up about his past overdose, too. When asked if he was ashamed of the bad choices he had made, Lamar confessed,
Hell yeah. They were despicable. I was basically committing suicide.
Here's the latest clip from "The Doctors."
The 37-year-old former NBA star went on to say his main focus right now is enjoying life. In his own words, Lamar told viewers,
I want to get high off of life now.
Overall, it seems like rehab has been a positive and eye-opening experience for Odom. Hopefully, he can stay focused on maintaining his progress despite missing Khloé.
Citations: Lamar Odom: 'I Was Basically Committing Suicide' ... Before Rehab (TMZ)