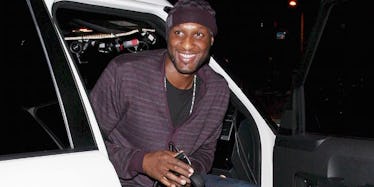 Lamar Odom Admits He's Not Over Khloé Kardashian: 'I Want My Wife Back'
REX/Shutterstock
Lamar Odom is not over Khloé Kardashian.
This is according to a recent appearance Lamar made on "The Doctors" in which the former basketball star was asked what he was planning to focus on in the upcoming years.
After being asked the question Dr. Travis Stork, Lamar responded,
Honestly, I want my wife back.
The reality TV couple has been in a famously grey legal area for the past few years.
They were reportedly scheduled to break things off a while back, but had the process delayed for the standard few reasons divorces tend to get delayed. That, and the fact Lamar's body can't take his love of hookers and drugs.
The biggest reason behind the divorce's delay is Lamar had a stroke a little over a year ago while spending a few days in a Nevada brothel.
While they were filing before the incident, the couple put everything on hold to make sure Lamar could recover from the trauma.
During this time, Khloé was very clear this meant the couple hadn't gotten back together and this was only a temporary hold on their divorce proceedings.
This didn't stop Khloé from living her own life. Over the past year, she's been linked to a few other Hollywood A-listers. Most recently though, she made things official with Cleveland Cavs star Tristan Thompson.
In December, after Lamar got healthy enough for Khloé to feel comfortable about proceeding with the divorce, Khloé started the process of filing again. She refiled for a full divorce and had a judge sign off on it, officially ending their marriage.
During that same month, Lamar reportedly admitted himself to a rehab center to deal with substance abuse and addiction problems.
He was released in early January.
Hopefully, Lamar works this all out and finds a way to get over Khloé.
Citations: Lamar Odom Reveals He Wants Ex-Wife Khloe Kardashian Back in New Interview With 'The Doctors' (ET)