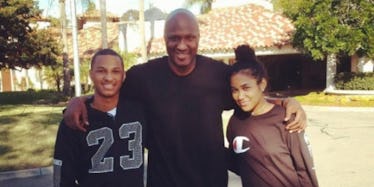 Lamar Odom Looks Better Than Ever In First Photo Since Leaving Rehab
Instagram
In Early December, 37-year-old former NBA and Los Angeles Lakers star Lamar Odom reportedly checked himself into a rehab facility following the finalization of his divorce from Khloé Kardashian.
Now, Lamar Odom has reportedly left the rehab facility where he spent the holidays and is finally on his way home.
Five days ago, Odom posted his first Instagram photo in seven months, a picture of himself and his kids.
To caption the above photo, Odom wrote,
No better way to end 2016 than with my two favorite people #TheOdoms #RichSoil
Odom reportedly spent the last 35 days at the rehab facility in San Diego.
The 37-year-old appears to have checked himself into the facility as a precautionary measure over fear the anniversary of his son's death might lead him back to drug use.
Speaking on Lamar Odom's departure from rehab, a source told PEOPLE,
Lamar is leaving rehab today. He's doing great and he's happy. He's heading home to LA. He has the support of friends and family and his kids visited him last week.
Speaking on Odom's initial rehab stint, a source told PEOPLE,
He wants to stay clear and focused. With the divorce from Khloé [Kardashian] being finalized and the holidays coming up, he doesn't want to slip up. He's trying to take care of himself. He really wants to be better. His friends and family encouraged him to go in and he agreed and made the decision.
I think I speak for most in wishing Lamar Odom and his family nothing but the best moving forward.
If you've ever struggled with addiction, or know someone else who has, then you know just how crippling it can be for you and those you care the most about.
Lamar Odom is 37 years old, he still has so much life to live and so many people, including himself, to live it for.
All the best, my dude.
Citations: Lamar Odom Leaving Rehab Following a Month-Long Stint for Substance Abuse (PEOPLE), LAMAR ODOM CHECKING OUT OF REHAB ... 'Doing Much Better' (TMZ)