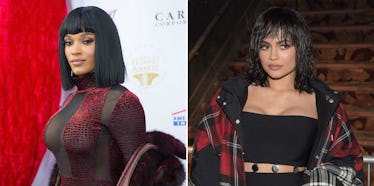 This Reality Star Is Pissed At Kylie Jenner For Copying Her Style
Getty Images
I am all for confidence, but reality TV star Joseline Hernandez of the hit reality show "Love and Hip-Hop: Atlanta" takes it to a whole different level, claiming insane fashion mogul (and also reality TV star) Kylie Jenner copies her style.
Woowwww. Those are some fighting words.
Hernandez appeared on the show "The Real" earlier this week and during a segment called #GirlChat, she weighed in on Kylie Jenner's style matching so closely to hers.
More specifically, the show displayed dueling Instagram images of the two wearing the same thigh-high purple boots.
Here is Joseline.
And here is Kylie.
Sure, they both paired the boots with a long T-shirt-ish dress and some sparkle, but beyond that... I don't know... Can't two people sometimes buy the same shoes?
However, when asked who wore it better, Hernandez didn't hold back, saying,
First of all, I'm her mama. She's my daughter.
From there, she went on to explain how the Kardashian sisters and other celebrities are constantly copying her style.
But, Hernandez herself mentions she never seems to appear online in her clothing first.
Additionally, Hernandez put specific emphasis on how rich A-list celebrities tend to spend their money on crazy-expensive clothing in attempts to rock "street style," which misses the whole point.
The real street style comes from the streets. The girls like me. The girls [that are] fly. The girls that don't have that much money to be able to afford, ya know, $2,000 boots.
This echoes previous conversation about the Kardashians and their ability to capitalize, and seemingly monetize, by culturally-appropriating traditional styles.
Regardless, Hernandez gets around to answering the initial question of who wore it better, saying, "This is what they want to be, so I definitely wore it better."
Catch her full interview in the video below, and stay away from her purple boots.
Citations: Joseline Hernandez Says That Kylie Jenner And Kim Kardashian Jacked Her Style (Buzzfeed)