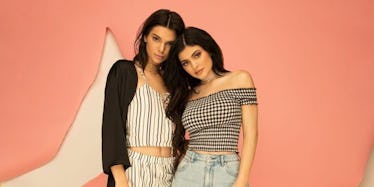 Kendall And Kylie Jenner Are Dropping New Clothing We Can Actually Afford
PacSun
I've got good news for all you people out there who want to dress like Kendall and Kylie Jenner but aren't self-made billionaires who frequently make up the cast of "Shark Tank."
The Kardashian family is a family who is known for two things:
1) The time Kourtney got Scott to shave her in the bathtub because she was pregnant.
2) Extravagance.
It's these two things, mostly the second though to be honest, that will always keep you from feeling like a Kardashian.
You can never truly pretend like you're part of the first family of Calabasas if you walk outside with clothes that you bought while shopping at the Gap -- or with a downstairs area that's never been knife'd by Scott... nm.
THE DAYS OF LOOKING NOTHING LIKE THE KARDASHIANS ARE OVER, THOUGH!!!
Thanks to a clothing partnership between PacSun and the Jenner sisters dropping this Thursday, you can now at least give yourself a fighting chance at looking like Kendall or Kylie.
PacSun sent Elite Daily some exclusive shots of the sisters in their new line and *standing ovation* we're into it.
BE THE FLIRTY QUEEN OF THE DARK YOU ALWAYS KNOW YOU SHOULD BE.
"If you need me, I'll be over here trying my hardest to keep my robe from slippin' right off me and right into the hands of the witch I stole it from."
The styles offered by the duo range in price from $22.95 to $59.95. AKA: RELATIVELY AFFORDABLE!
The ol' romper-bathrobe combo.
The press release states,
The Spring Collection has a modern femininity and true romance feel, incorporating key colors, fabrics and prints such as florals, embroidery, stripes and lace. The wide variety of styles including off the shoulder tops, dresses, rompers, twin sets, bralettes, bodysuits, kimonos and casual shorts will seamlessly transition your wardrobe for spring.
The collection drops on Thursday, February 23 in stores nationwide and online at Pacsun.com.
Get to a PacSun, you buttholes! THIS IS SERIOUS!