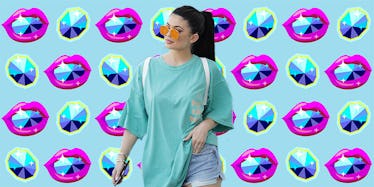 Prepare To Be Jealous Over The Ridiculous List Of Kylie Jenner's Birthday Gifts
REX/Shutterstock
When Kylie Jenner's birthday comes around, just know she's going to remind everyone that she's, well, Kylie Jenner.
If you've kept up with the 18-year-old star, you know that her birthday, which lands on August 10, is usually a big deal. Why? Because she gets the BEST birthday gifts.
Let's just say I wouldn't be surprised if her own sisters were jealous of her.
Last year, Kylie Jenner received a brand new Ferrari from her boyfriend Tyga for her 18th birthday.
If you thought THAT was a big deal, Kylie got a bunch of other gifts a few days BEFORE her birthday this year.
Behold, the epic bouncy castle she was gifted for her 19th birthday.
Keep in mind, it still isn't officially her birthday. Here she is chilling in her new kingly "King Kylie" bouncy castle.
One of her good friends gave her a new puppy named Penny.
It didn't stop there. Tyga gifted the star ANOTHER car. After giving her a Ferrari 458 last year, Tyga bought her a Mercedes-Maybach.
Following the Maybach and the bouncy castle, a friend of Kylie's named Heather gifted her this beautiful bouquet fit for a true baller like Kylie.
Someone EVEN gave Kylie's dogs birthday presents, too.
The pre-birthday madness continued when someone named Mike sent Kylie a batch of sunflowers (they're Kylie's FAVORITE). Don't be jealous, Tyga, he's probably just a friend!
That wasn't enough. Remember, we're talking about Kylie's BIRTHDAY here. Fashion designer Alexander Wang gifted Kylie Jenner a new outfit from his collection.
To close out the envy-inducing festivities taking place before Kylie's birthday, her friends gave her CUPCAKES.
All right, admit it... HOW jealous are you of Kylie Jenner right now?
I mean, who even gets a Mercedes-Maybach worth $220,000 at ANY point during their lifetime?
Not many people, that's for sure. On top of that, her dogs were given birthday gifts.
Overall, Kylie received a ton of flowers, was thrown a party before her official birthday, was presented an outfit that probably costs more than most people's entire closets and enjoyed a BOUNCY CASTLE.
The funny thing? That's not even half of the list.
So, to answer my own question, you're not alone -- everyone is jealous of Kylie Jenner.
And it's not even her birthday yet (cue Rihanna's "Birthday Cake" classic).