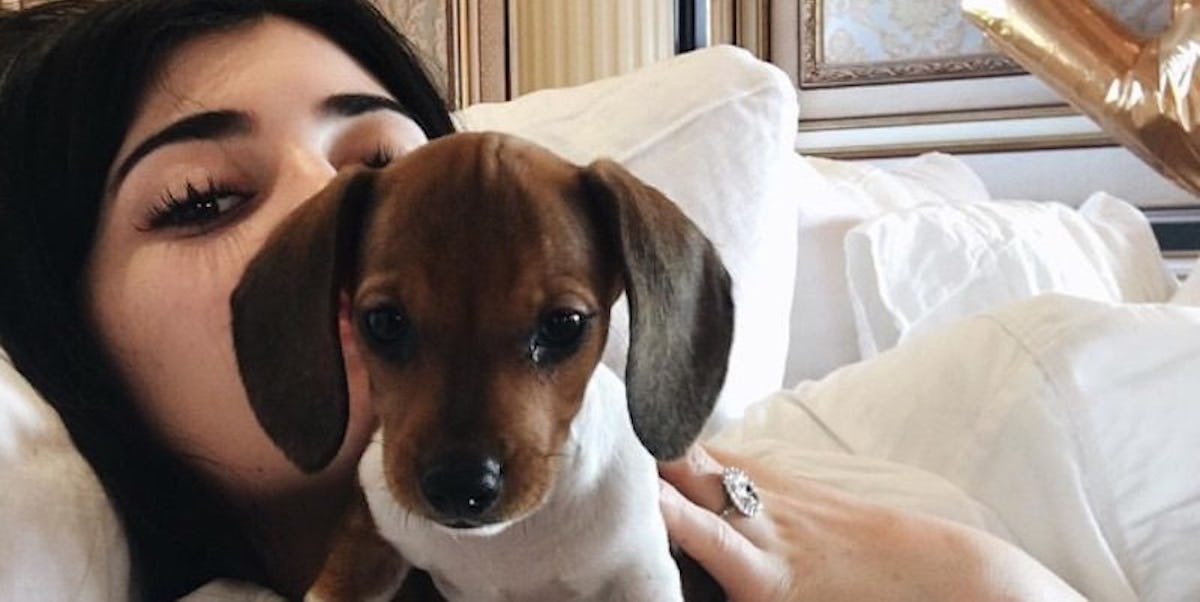 Meet Penny, The Newest And Cutest Puppy To Join Kylie Jenner's Family
Instagram
If you don't like small dogs and Kylie Jenner, leave this post now because that is exactly what you are going to get. If you love Kylie Jenner and small dogs, THEN YOU ARE IN LUCK, MY FRIEND!
According to Refinery29, as an early surprise for Kylie Jenner's birthday, August 10, her friends decided to get her the most adorable puppy ever.
They gave the dog to her on Saturday, and Kylie was ecstatic. That being the case, the dog immediately took over Kylie's social media.
According to one of Kylie's Snapchat videos, she named the dog Penny.
Here's the adorable pup!
AWWWWWWWWW. Isn't Penny adorable!? Kylie also hilariously captioned the photo, "mom duty."
Well, if you're like me and you have to see how this all played out, check out Kylie's Snapchats below.
Oh my goodness, Kylie looks so surprised. She definitely wasn't expecting a puppy.
STOPPPPPPP!!!!
This might be the cutest puppy squeak I've ever heard.
I'm having a cuteness overload here. Just look at those eyes! Look at those adorable ears! Look at those paws! They're just so tiny!
I can't even. You can see how excited Penny is by how fast her tail is wagging.
It looks like Penny's already made herself very comfortable with her new mom!
Penny's already starting to explore her new home, too!
Even Kylie's other dog recognizes how cute and tiny Penny is. See how Norman wants to protect his new puppy pal?
It looks like Penny is already making herself comfortable as the newest member of the Kardashian-Jenner clan. Kylie Jenner's other dog, Ernie, was tripping out a little bit, but I'm sure he'll come around soon enough. After all, from the looks of things, I'd say Penny is there to stay.
Well, happy early birthday, Kylie! You definitely have some really thoughtful friends.
Citations: Kylie Jenner Got A New Puppy For Her Birthday & It's Adorable (Refinery29)