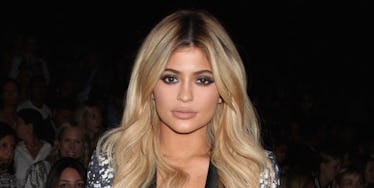 Kylie Jenner Kicked Off Her Birthday Celebrations With This Epic Party
REX/Shutterstock
Happy BirthDAYYYYUMMMMMMMMM, Kylie Jenner!
Let's be real for a second: There is no way the soon-to-be-19-year-old fashion and makeup mogul was going to celebrate her birthday without going all out.
There was no way she was just going to invite some friends over to her basement and play Truth or Dare while slopping down Domino's like the rest of us normies do.
No, Kylie Jenner's 19th birthday party was always destined to be a star-studded event hell-bent on putting the rest of our dumb birthday parties to shame.
Boy did it deliver.
Kylie's jumpsuit alone is the most extravagant thing I've literally ever seen.
Her outfit looks like it was designed by fashionable aliens from a distant planet who have wayyyyy more advanced fashion technology than we do.
That outfit again.
Annnnnnd one more time.
Annnnnnnd one last time from the back.
While Kylie was clearly the standout winner from the night's event at The Nice Guy in LA, there were other attendees who deserve a major shoutout.
Hailey Baldwin can wear the SHIT out of some booootz!
Kim was obviously there, and she obviously looked like a beautiful white phoenix.
Jordyn was there. Jordyn looked great. All hail Jordyn.
The hottest best friends @KylieJenner @jordynwoods pic.twitter.com/TOXGlHrLj5 — Kylie Jenner (@kyIiesjennr) August 1, 2016
Kylie's actual birthday isn't until August 10. Still, I'm slightly insulted I didn't get an invite to this bash...
Citations: Kylie Jenner Kicks Off Her Birthday Celebrations in a Sheer Jumpsuit (E! News)