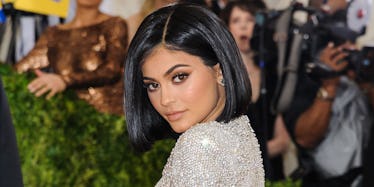 Kylie Jenner's Birthday Present To Herself Will Make You Hate Your Life
Shutterstock
Last year, Tyga bought Kylie Jenner a potentially re-gifted Ferrari for her birthday.
This year, Kylie is a grown-ass woman who buys her own birthday cars.
Deal with it.
The reality star turns 19 on August 10 and plans to roll up to her party in a brand new Land Rover.
Kylie flaunted the one-of-a-kind SUV on Snapchat on Sunday.
According to Us Weekly, the Land Rover joins Kylie's Mercedes-Benz G-class, her Rolls-Royce Ghost, her Range Rover Autobiography and last year's shady borrowed birthday Ferrari in Ky's Calabasas garage.
For the next week and a half leading up to her official b-day, Kylie probably plans to roll around town in her new car with her new puppy, Penny.
Ky's bestie model Jordyn Woods surprised the "Keeping Up with the Kardashians" regular with a sweet, squeezable puppy to basically say, "Congratulations on surviving 19 years. You really did it."
Inspiring as it is to see Lady Kylie doin' it for herself, the new whip is puh-retty jealousy-inducing.
Even the most distracted driver (me), who would easily ruin that car in .5 seconds (me, me, me), would trade a few days on Earth for a few minutes behind the wheel. Priorities.
Citations: Kylie Jenner Treats Herself to Custom Land Rover for 19th Birthday, Shows It Off on Snapchat (Us Weekly)