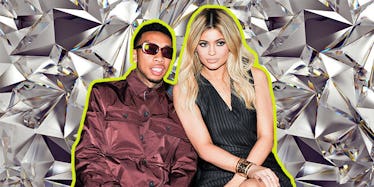 Tyga Bought Kylie Jenner Yet Another Insane Ride For Her Birthday
REX/Shutterstock
It's anyone's guess what the Kardashians got Kylie Jenner for her birthday, but we can bet Tyga gave the best present.
In an Instagram video shared by Jenner, the rapper gifts his girlfriend a brand new and luxurious Mercedes-Benz Maybach S600 while singing "Happy Birthday" to her.
Considering the fact it's only Kylie's 19th birthday, it looks pretty safe to say the Maybach is an insane gift. But believe it or not, Tyga's gift this year doesn't live up to the present he gave last year.
For her 18th birthday, Kylie got a Ferrari 458 convertible from her rapper boyfriend. The cost of that ride is about $260,000. The price tag on the Maybach S600, on the other hand, doesn't even top $200,000.
Obviously he's getting cheap on her, people.
Regardless, it looks like Tyga and Kylie Jenner are here to stay as a couple, as if that wasn't already evident. It was only a little over a month ago the two celebrities got back together after a brief breakup.
After yet another six-figure birthday gift to Kylie from Tyga, I'll go out on a limb and say he feels pretty good about the long-term potential of their relationship.