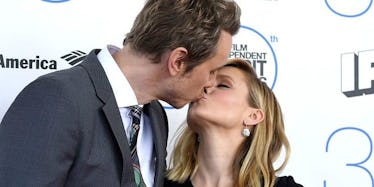 Kristen Bell Admits What Her Relationship With Dax Shepard Is Like In Real Life
Frazer Harrison/Getty Images
Hollywood couples fall apart more frequently than a poorly-made burrito. There are tons of theories about why, but one thing everyone seems to forget is that celebs are people, too. That's why it's so great to see Kristen Bell get real about her marriage to Dax Shepard. She recently did an interview with Us Weekly and shed some light on her "perfect" marriage. Kristen Bell's quotes about Dax Shepard will truly make you believe in relationships and marriage again.
Disclaimer: No f*ckboys allowed, this is all about healthy, mutual relationships, y'all.
During the interview on August 9, girlfriends and wives everywhere let out a sigh of relief when Bell made the most relatable statement about her marriage to Dax Shepard:
Our marriage took a lot of work, takes a lot of work. I don't think people realize. It's not easy to work around another human being, but if you commit to it, you can pretty much permanently respect that person, but then it doesn't really matter if you disagree because you still respect that person.
While Bell and Shepard look perfect on the outside, they definitely disagree on things. Bell said,
I do disagree with him on 90 percent of the issues on the planet ... But we have really wonderful, intense valued conversations about things, and I always see his point, even if I disagree. It's hard to do.
Bell continued to stress that coming from a place of understanding can make all the difference in a disagreement.
It's all about contempt. Never roll your eyes at someone. You might as well break up right then because it's contempt. I'm telling you — I disagree with him on almost everything, but I have intense respect for his critical thinking skills and the fact that we were raised differently. I always see his point. I do not and will not ever have contempt for him.
According to Bell, it's all about R-E-S-P-E-C-T. However, a good sense of humor doesn't hurt. She didn't forget to mention,
But on a daily basis, he just makes me laugh all the time. He's obessed with attention, so he's constantly making jokes to try to get me to give him more attention or to get me to giggle. And you know, he was a stand up comedian, so I'm living with a comedian.
So sweet, right? The couple married in 2013 after California legalized same-sex marriage. Bell proposed with this perfect tweet.
Since then, Bell and Shepard have welcomed two daughters into the world. Three-year-old Lincoln and two-year-old Delta definitely keep them on their toes. It turns out, their parenting techniques are just as amazing. Bell explained,
[Dax] said, 'Kids can see adults fight, particularly their parents, but you ever think about the follow through? When do they see them resolve it? When do they see them make up? And kids mimic us. That's how they grow.' We always make an effort to make them see. So the next morning I'll say, 'Hey, you know what, Dad, I'm really sorry I was so frustrated yesterday when you were bringing in the groceries. I could have had a nicer tone in my voice.' And he would say, 'Thanks for saying that, Mom, I know you were stressed.' And we let our kids see how to solve conflict and that was his idea. And if we don't genuinely wake up like that in front of each other, we will write the script to make them see.
OK, seriously, can Bell and Shepard be my parents? I have no conflict-resolution skills. My strategy is usually to hide until it passes. Mature, right? Bell continued to gush about her hubby and his parenting skills.
It's cute, right? That's Dax Shepard's parenting skills right there. He who has not read a single parenting book. I, who have read most of them, and he comes up with the golden gems. Can you believe this guy?
Honestly, the cutest. I know she already explained how marriage is hard and everything, but they make it look so perfect.
I adore Kristen Bell, Dax Shepard, and their tough-but-fun-but-busy-but-adorable relationship. Can you two please get a reality show? Thanks!