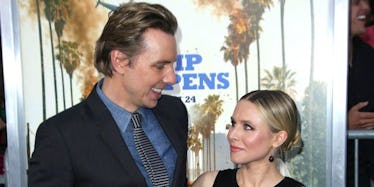 Kristen Bell Reveals The Secret Behind Her Perfect Marriage With Dax Shepard
REX/Shutterstock
On the surface, Kristen Bell and Dax Shepard share one of Hollywood's most enviable, and seemingly carefree, marriages.
The 36-year-old Bell and 42-year-old Shepard look genuinely happy to be with one another in virtually every photograph they take together, and it's extremely encouraging to see.
However, if you think their successful marriage is effortless, well, you've got another thing coming.
Monday, at the LA premiere of "CHiPs," Kristen Bell chatted with ET about her marriage and revealed the one secret to maintaining her and Dax Shepard's happy relationship.
Speaking with ET on how going to therapy has played a vital role in her marriage, Bell said,
We have a very healthy marriage and we got there by doing therapy when we needed it, and constantly doing fierce moral inventories. We both take responsibility when we are wrong, and I think it is easy to work with him because I married him, because I enjoy spending time with him and I trust him. That is exactly what I want in someone that I work with.
Perfection. Absolute perfection.
The 36-year-old actress added,
I guess there is no competition between us — we're not generally up for the same roles, so we can kind of keep that separate.
I'm sure that helps in a star-studded marriage, too.
However, even the best marriages aren't without incident. Bell spoke to ET about the first time she fought with Shepard, which occurred during a motorcycle trip.
She said,
We were fighting about the first year of our relationship because it's a power struggle, and we were fighting about the playlist, and I got so mad at him at one point that I refused to hold onto him. So I was on the back and just held onto the [bike] because I didn't want to touch him.
These two.
Back in 2015, Shepard commented on his marriage with Bell. He said,
I said to Kristen, 'We should try hard to police ourselves about becoming contemptuous of each other. If I ever see you roll your eyes at me, we need to hit pause and figure out what's going on.'
Speaking about their "healthy marriage," Bell added,
I don't mind advertising a healthy marriage. I'm trying, just like everyone else.
These two are so perfect.
Citations: Kristen Bell Says Therapy Is the Secret Behind Her Happy Marriage to Dax Shepard (People)