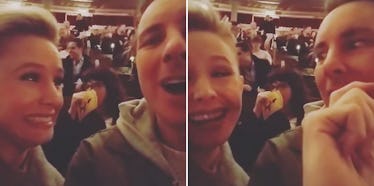 Kristen Bell And Dax Shepard Had A Date Night And The Videos Will Make You Melt
Instagram
Kristen Bell's latest Instagram videos pretty much prove that her life is better than mine in every way.
First of all, home girl has an adorable, loving marriage with Dax Shepard. So, you know, lasting, fulfilling love — that's pretty cool.
Second of all, she and said loving husband just saw "Hamilton" together. You know, that amazing musical Lin-Manuel Miranda created that's literally impossible to get tickets to? Yeah.
These two factors came together on Wednesday, when Kristen and Dax had a date night at the Richard Rodgers Theatre in New York City.
Kristen documented the evening on her Instagram with two adorable videos from the theater.
First, they took their seats, prepared to be moved by American history with snacks.
Kristen wrote in the caption,
Mommy and Daddy's night out!!!! #hamilton the musical is gonna bring the party! My excitement cannot be contained and full disclosure I cried during the opening number.
In the video, Kristen shares she's got chocolate-covered blueberries, while Dax opted for "Twixies." (His words.)
Kristen also mentions she's got "the cutest man in town," to which Dax replies, "Where? Where?"
Honestly, it looks like the perfect date night for a perfect couple, and I hate it so much.
Then Kristen posted another video, documenting their intermission reactions after finishing act one.
She wrote in the caption,
Here's an intermission review from @daxshepard- who, hates all musicals and loved this one. I was moved to tears 5 different times. My ❤️ was singing the whole time. Every single performer was perfection. The band was divine. BRAVO to every hand involved. Thank you @lin_manuel for all energy it took to bring this story to stage. #hamilton #hamiltoe
So, according to that caption, Dax loved the musical, but his review in the video tells a slightly different story.
"I wish there was more singing," he tells the camera.
For those who don't know, "Hamilton" is a rock opera, meaning the entire show is sung. Possibly Dax was joking? Or maybe he doesn't like rapping, in which case, he clearly did not do much research on the show beforehand.
Dax had another suggestion for Lin-Manuel Miranda as well: Change the name to "Hamiltoe."
I'm not even going to comment on that.
At least Kristen had fun!