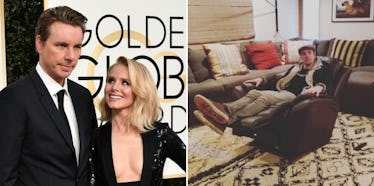 Only Kristen Bell And Dax Shepard Can Make Arguing Over Furniture Hilarious
REX/Shutterstock/Instagram
A moment of silence for Kristen Bell's living room, please.
This once-stylish space filled with classy decor has fallen to the ranks of nothing more than a tasteless bachelor pad. It's now the kind of room some poor, misguided male who went to high school in the '90s might dub a "man cave."
And this tragedy is all thanks to Kristen Bell's husband, Dax Shepard.
Here's what happened. On Wednesday, Dax posted a photo on Instagram of himself lounging in a La-Z-Boy recliner.
Dax wrote in the caption,
My wife, in an attempt to discredit my character, will be posting a similar picture, but with the expressed intention of attacking my sense of style in home furnishings. The proof of this Lazyboy's aesthetic appeal is written all over my face. #getcomfy #functionbeforefashion
Now, because the photo is so zoomed in, the full extent of Dax's crimes against home decor were not yet made clear.
Even though La-Z-Boys are not the epitome of classy home furnishing, there are ways to make it work.
But when Kristen posted her version of the La-Z-Boy debacle, it became clear that Dax had made no effort to make this addition to the living room work.
Kristen wrote,
This is not a bit. @daxshepard has sincerely suggested the new home for the lazy boy from his office be in the center of my living room. He made an adorable argument about how epic his TV viewing experience will be if I let him keep it there. The man has lost his mind. #chiphappens
Yeah, no, Dax has officially gone too far.
Look, I'll just come out and say it: Kristen Bell is too good for Dax Shepard.
Don't get me wrong, I also think they're one of the cutest, most hilarious couples in Hollywood. But while their relationship is entertaining for me, I worry about what it is costing Kristen (and her living room).
Maybe she should ditch Dax and settle down with her crush, Riz Ahmed, instead. Just a suggestion!