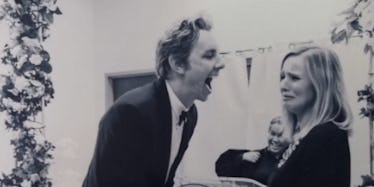 Kristen Bell Shared A New Pic From Her Wedding To Dax Shepard And It's Perfect
Instagram
Kristen Bell and Dax Shepard are undoubtedly one of Hollywood's cutest couples.
But sometimes I just have to wonder: What did Dax Shepard ever do to deserve Kristen Bell?
I mean, let's look at this wedding photo Kristen just posted to her Instagram.
Kristen wrote in the caption,
#tbt to when I cried at our wedding and @daxshepard thought it was really funny.
I mean, yes, this is a pretty hilarious photo.
But also, that's THE Kristen Bell who Dax just married, you know?
I kind of feel like instead of laughing at her emotions, Dax should be groveling on his knees to whatever deity blessed his life.
I mean, really.
And then there's that whole thing about Dax's chewing habit when they first met.
Again, I really just think Kristen Bell has been very generous when it comes to Dax. The fact she actually married him is low-key a miracle, and he should treat it as such.
To be fair, though, Kristen really does cry a lot, as famously demonstrated by her iconic sloth video.
And also, to be fair, that wedding photo looks like it could be staged, since the judge is laughing in the background.
FINE, you get a pass, Dax. This time.
Dax and Kristen started dating in 2007 and got engaged in 2010, but didn't get married until 2013 because they were waiting for California to legalize same-sex marriage.
When the legislation finally passed, Kristen proposed to Dax on Twitter.
They had a perfunctory wedding at the Beverly Hills County Clerk's Office, which is maybe why they haven't shared many photos from the ceremony.
Now they have two daughters, Lincoln, who is 3 years old, and Delta, who is 2. We haven't seen many photos of the kids either — except this really, really far away photo of one of them.
And no, you can't even tell which daughter is in the photo.
Well, congratulations again to Dax for landing the best wife and mom ever.
Citations: Kristen Bell's Wedding To Dax Shepard (Us Weekly)