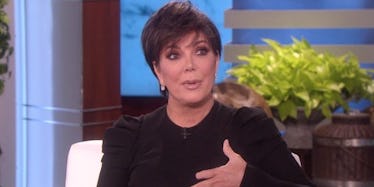 Kris Jenner Tears Up Talking About Kim K's Robbery In Emotional 'Ellen' Video
Ellentube
Kris Jenner just couldn't hold back tears thinking about the ratings Kim Kardashian's robbery will bring "Keeping Up with the Kardashians."
Sorry, did I say ratings? I meant "concern for her daughter's well-being."
The 61-year-old Kardashian/Jenner momager stopped by "The Ellen DeGeneres Show" on Monday and opened up about the upcoming "KUWTK" season premiere, which will delve into Kim's armed robbery in Paris last fall.
Kris told Ellen when they were filming, Kim found talking through the robbery on camera to be "therapeutic."
Kris said,
Now we started seeing some of the stuff that had come out of those [filming] days. Nobody can even get through the first five minutes without being hysterical. I get choked up just thinking and talking about it.
In fact, Kris said she found watching Kim talk about the experience so painful she couldn't even watch the full final cut of the episode.
Kris told Ellen, while barely holding back tears,
I was watching and just bawling when I saw it. I couldn't even watch the whole thing, it was so upsetting. It was such an upsetting time, and something so awful to happen to somebody that you love so much... It chokes me up every time I think about it.
But just because Kris couldn't watch the episode doesn't mean she's discouraging you from tuning in! (It's "riveting" and "remarkable" and premieres March 5, did she mention?)
To be fair to Kris, I'm just as interested as everyone else to get the full story behind Kim's robbery.
After all, it's been five months since the incident and we only just got pictures from the crime scene.
The pictures seem to confirm the story: A group of armed robbers entered Kim's hotel in Paris, tied her up with duct tape, demanded cash and made off with an estimated total of $10 million worth of jewelry.
So it will definitely be interesting to finally hear the story in Kim's own words.
While on "Ellen," Kris also further elaborated on the reason Kanye West met with Donald Trump at Trump Tower.
Kris stated that she didn't think Kanye would be meeting with Trump again any time soon.
That is, of course, unless next season's ratings aren't looking too hot, right Kris?
The season premiere of "Keeping Up with the Kardashians" airs Sunday, March 5 on E!