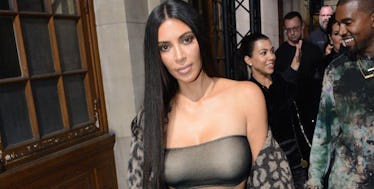 The Pics From Kim Kardashian's Robbery Crime Scenes Will Give You The Creeps
REX/Shutterstock
It's been five months since Kim Kardashian was robbed at gunpoint during Paris Fashion Week on October 3 of last year.
The 36-year-old star had been in her room at the luxurious "No Address Hotel" when a group of armed assailants tied her up and first demanded cash before making off with millions of dollars worth of jewelry.
One of Kim's personal belongings stolen during the heist was reported to be a diamond ring worth nearly $4.5 million. Eventually, the robbers made off with an estimated total of $10 million worth of the star's jewelry.
Shortly after the traumatic incident, Kim Kardashian kept a low profile as French police sought out to nail the perpetrators responsible for the crime.
When she was spotted out in public by paparazzi in Los Angeles months later, she was hardly recognizable.
Kim eventually loosened up after a total of 17 suspects were arrested in connection with the robbery.
Although she was said to be contemplating a return to Paris for Fashion Week events this year, it was just recently she decided she would not return to the "city of lights" just yet.
Most recently, new photos taken at the different areas of the crime scene, both before and after the heist, were released by French news outlet TF1.
The first few photos show Kim's empty room at the "No Address Hotel," and the eerie vibes are strong...
Here's the bed where Kim had apparently been lying down prior to the incident.
The duct tape used to tie her up was also found at the scene of the crime.
This is the prop the group of armed assailants used to restrain the 36-year-old mother-of-two.
Also included are photos of several suspects lingering around the area in extra spooky fashion.
You have to admit, these photos are BEYOND creepy!
These photos captured by surveillance cameras positioned around the area helped piece together suspects throughout the investigation.
A few of the suspects in the photographs peered directly at the camera.
This particular photo was said to be taken prior to the robbery at a nearby coffee shop.
The same men were spotted near the hotel.
Just looking at these pics, you can clearly see why Kim refuses to return to Paris anytime soon.
As of now, a total of 17 suspects remain in police custody while only a few of them have been officially charged.
Citations: Kim Kardashian Robbery Crime Scene Pics Surface Footage of Suspects Too (TMZ)