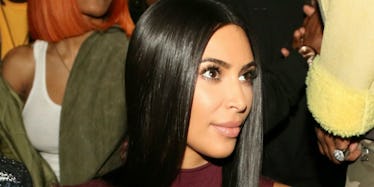 Kim Kardashian Isn't 'Planning On Attending' Paris Fashion Week After Robbery
REX/Shutterstock
Sorry, Parisians, but Kim Kardashian isn't ready to be back in your city just yet. Throw as many baguettes at mimes as you see fit. Lord knows they deserve it.
I. Hate. Mimes.
While we reported earlier Kanye West was interested in attending Paris Fashion Week and Kim Kardashian was on the fence about returning to the "city of lights," it looks like she has finally made a decision.
A representative for Kim told People the reality TV star would not be making the trip to Paris after all. They said,
She wasn't planning on attending.
Zut alors! Well, that's entirely understandable.
In case you've been living under a rock, first, you should really consider moving. Location, location, location.
Secondly, let me catch you up to speed on what went down in Paris the last time Kim was there.
Back in October, Kim was staying at the No Address Hotel when five robbers broke into her room, held her at gunpoint and heisted millions of dollars worth of jewelry, including a ring worth $4 million.
After 17 suspects were arrested in January, seven have since been released, four were indicted, and the other six were charged.
By the way, Kanye's face in the photo below is exactly how any of us would look at the person who bound and gagged our SO.
After taking months off from being in the limelight, Kim made her first post-robbery public appearance in Dubai on January 13.
While she was reportedly traumatized from the robbery, I do hope she eventually returns to Paris.
It'd be a shame if the events of October forever tarnished the wonderful city for Kim, in the same way it'd be a shame if the France pavilion in Epcot continued to ban me from entry just because of that one incident I had with a mime.
Trust me, folks. He had it coming.
Citations: KIM KARDASHIAN WON'T RETURN TO PARIS FOR FASHION WEEK 5 MONTHS AFTER HER ROBBERY (People)