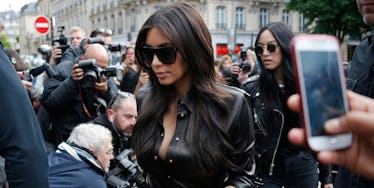 Kim Kardashian Made Her First Public Appearance With Very Little Security
REUTERS
After taking a three-month break following her traumatic Paris robbery, Kim Kardashian is back to work.
On Friday, the 36-year-old reality star made her first public appearance since her hiatus to attend her makeup artist Mario Dedivanovic's Master Class in Dubai.
When she arrived at the Atlantis hotel on Thursday, fans and paparazzi were there to welcome her back.
Though some might have expected Kim to be with beefed-up security, in the video, Kim's security actually seems pretty much the same as it always is.
There are a few scary-looking men in suits trailing behind her entourage, but that's about it. The path in front of her seems totally clear.
This, along with Kim sharing her location on social media, is starting to make people a little nervous.
She continued to snap and tweet about being at the event today, writing on Twitter,
Such a fun day today! I felt so much love here in Dubai, thank you guys for coming out to Mario's Master Class!
Look, people: This is Kimmy's job, ya hear?
If she's walking out of airports with five burly dudes in front of her, the camera won't be able get a clear shot of her perfect contours.
If she doesn't share where she is on her Snapchat and Instagram, how will fans know to come see her?
I'm actually not being sarcastic here. If you don't understand how important paparazzi and fans are to Kim K's brand — and her brand IS her job — you don't understand Kim K at all.
She took a break for her safety and mental health for three months, and now she's back. She's not doing it halfway.
She's motherflippin' Kim Kardashian, and she is here to be famous for being famous!
And she's certainly not going to get those sponsorship deals by hiding her whole life.
Anyway, in conclusion, stop victim-blaming and let Kim do her damn job. Thank you!
Citations: Kim Kardashian Makes First Official Appearance Since Robbery at Makeup Artist's Master Class (TMZ), KIM KARDASHIAN LETS LOOSE IN DUBAI (TMZ)