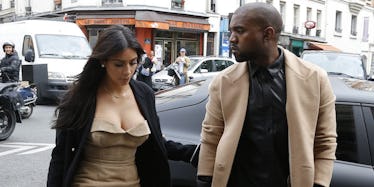 Kim K Is Already Sharing Her Location On Social Media And We're Concerned
REUTERS
SOMEONE TELL KIMMY TO BE CAREFUL!
We cannot face losing her again. We need her presence on our Twitter feeds. We have very little going on, day to day.
Kim Kardashian West joined Scott Disick and four security guards on a flight from LA to Dubai on Wednesday, sharing her plans on Twitter.
Following Kim's Paris robbery back in October, it was believed the thieves tracked her down by simply examining her social media activity.
Realizing the drawbacks and the danger of being an accessible celebrity, the mother of two took a nearly three-month hiatus from Twitter, Snapchat, Instagram and her own app.
Earlier this week, authorities arrested 17 suspects in connection to the armed heist, making the streets a little safer for the reality TV star.
Despite this progress, though, there's still plenty of investigating left for authorities to complete before a conviction is made.
A judicial police source in Paris told Us Weekly,
You could call it strange, but actually, it can take many months, even years to solve a heist mystery. There's a lot that goes on beyond the initial evidence collecting… It can take a long time.
DNA evidence found on a necklace allegedly dropped by one of the robbers certainly helped to speed the investigation along, though police are not optimistic Kim will ever see her $4 million engagement ring again.
Cops told Kimmy's legal team diamonds that size are usually shipped to Antwerp's diamond district in Belgium, according to TMZ.
Fortunately, Kim is safe and spending plenty of time with husband Kanye West and their two kids, North, 3, and Saint, 1, as she slowly makes her return to the public eye.
Perhaps she'll pick up a few sparkly statement pieces on her trip to the United Arab Emirates. And one for me, too. And one for you, too.
We've all been through a lot the past year.
Citations: I'M OFF TO DUBAI NOW THAT THE BAD GUYS WERE CAUGHT!!! (TMZ)